Home

›
French Interiors
› Louis XVI Settee
Louis XVI Settee (1760-1789 French Settee):
Antiques & Reproductions
A Louis XVI settee goes beautifully with French and Gustavian interiors, as well as with some contemporary (country) styles.
This page has a cherry-picked collection of neo-classical, Louis XVI settee reproductions (you'll find the curvier, rococo settees here.)
Louis XVI Settee: Antiques & Antique Copies
Here are today's listings of small Louis XVI sofas on eBay. Please note that most of them are not actual Louis XVI antiques.  They're antique copies of Louis XVI antiques, created in the 19th century when the real Louis XVI sofas were already hundred years old.  (Read more about Louis XVI sofas - or if you're looking for a curvier  French settee, head over to the rococo-inspired French settee selection.)
Louis XVI Settee: 200 Years Of Style Recycling!
In 1749, the sensational rediscovery of ancient Pompeii under 25 meters of solid volcanic ash sparked a European love affair with the ancient world.

The "neo-classical" style swept architecture, painting and interior design.

French sofas, chairs and tables reinvented themselves with straight fluted legs and simplified lines that imitated ancient Roman and Greek models.
By the time Louis XVI ascended to the French throne in 1774, neoclassical ('Louis XVI' style) furniture was already well established.

Two revolutions, two republics and two Napoleonic empires later, the craftspeople of France were creating high-quality copies of original Louis XV and Louis XVI furniture - the quality was in fact so high that even collectors of French antiques are occasionally fooled about the actual age of a piece.
(Rattan furniture, however, can never  date from Louis XVI's time; it was first produced in France around 1860. So if you're offered a rattan settee, sofa, chair or bed as a genuine Louis XVI antique, don't waste your money ;-)
Louis XVI Sofa Upholstery
Original Louis XVI sofas for 'ceremonial' rooms were giltwood affairs, upholstered in Aubusson tapestry, Beauvais tapestry, or Lyon silk. 'Everyday' Louis XVI sofas were covered in ribbed velvet or Toile de Jouy prints. In the 1760s, Toile  was a novelty fabric and all the rage in society households.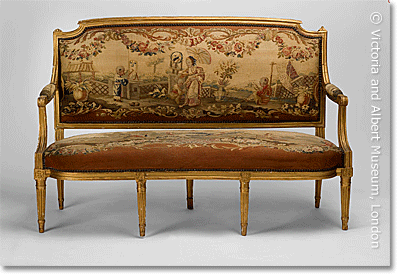 Louis XVI settee (ca. 1780, Paris, France) Tapestry weaving: Aubusson (ca. 1745-70).

Not all  woven tapestry on antique French settees of the Louis XVI period is necessarily the original  upholstery fabric - many of these sofas were retrofitted with Aubusson weaves when such tapestries became fashionable collector's items in the 19th century.
Our contemporary fondness for linen, burlap and feedsack coverings on Louis XVI sofas is typical of their most recent, "French Country" incarnation, which is in turn inspired by the simplicity of Swedish Gustavian neoclassical furniture. This is, of course, not  the original Louis XVI look any more ...
... but it fits in well with current decorating tastes, and if you would like to add some historic flair, you can always 're-Frenchify' your settee with a few sofa cushions covered in toile de Jouy fabric or woven tapestry:
Yet to find the information you're looking for?
Type a word or phrase into the search box below: