Home

›
French Interiors
› French Settee
French Settee:
Rococo-Inspired French Country Sofa
A French settee comes in several distinct looks & shapes:
There's also a bit of French rococo settee history (if you're interested.)
To start, check out this collection of contemporary 'rococo' (Louis XV) French settee and neo-classical (Louis XVI) settee styles:
Provençal ("French Provincial") Straw-Seated Settee
This type of French style settee is perfect for an entryway, foyer, or informal living room - and that's exactly where you'll find them in Provençal houses. (Add a tie-on cushion for warmth in the winter.)
French Inspired  Settees
Some of these French settee styles strive to look just like their Louis XV or Louis XVI ancestors - others, not so much. But none of them could ever deny their 18th-century French bloodlines.
French Settee Design History
1730-1760 / 1848-1870
Why does a modern French settee look the way it does?  Well, blame King Louis XV, because the style everyone now recognizes as "French" was first created on his watch. Before his reign, a French sofa basically looked as if someone had lined up a few chairs side-by-side and bolted them together.
Louis XV rococo furniture was playful rather than imposing, and perfectly suited for intimate, even feminine spaces. The King's mistresses loved it, and they championed up-and-coming furniture designers.
Madame de Pompadour, Louis XV's third official maîtresse  (from 1745 until her death in 1764), was famous for her patronage of the arts; she is also credited with making straw-seated chairs popular in elegant society.
Style Characteristics Of A French Rococo Settee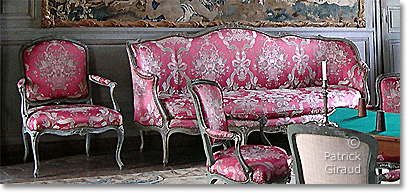 Louis XV settee and chairs, Château de Talcy, Val de Loire, France
Undulating outlines designed to mask all angles;
Exposed wooden frames with integrated elbow pads (the settee frames were often painted to match the woodwork - gilding was reserved for very posh pieces in exceptional settings);
S-shaped ("cabriole")  legs that are turned outward, end in a scroll and stand on a little cube ("dé");
Asymmetrical, expressive carved ornamentation that includes scallop shells, gadrooned leaf shapes, c-scrolls, acanthus leaves and palmettes.
Here's a close-up example of the intricate carving:


Louis XV rococo armchair (details) ca. 1740, Paris, France
(Photo courtesy of the Victoria & Albert Museum, London, UK)
Transitional 18th-Century French Settee
With the emergence of the neo-classical style in the second half of the 18th century, furniture was gradually adapted and modified to suit the new taste.
Sometimes rococo lines and cabriole  legs remained, while the exuberant, whimsical carved ornament was replaced with a formal, geometric "Grecian" pattern, as you can see here: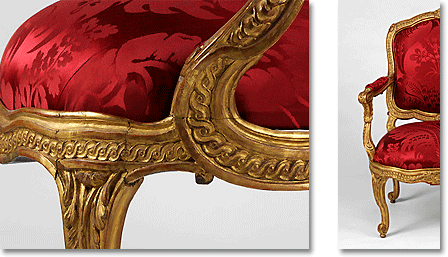 Transitional giltwood armchair (details) ca. 1765, Paris, France
(Photo courtesy of the Victoria & Albert Museum, London, UK)

Generally, though, furniture lines (including legs) were straightened up and simplified, right angles reasserted their right to be seen, and ornamentation was pared down to suit the new, simple neoclassical taste.
19th-Century Copies
A century later, the Second Empire (1848-1870) was a period of recycling and mixing several older styles. Louis XV and Louis XVI settees were very much in vogue again (the empress Eugénie adored  Louis XVI furniture).  Newly made pieces were often preferred to antiques because they were more durable.
This time also marked the beginning of professional antiques dealerships. And there was plenty of forgery going on. Some copies of Louis XV and Louis XVI originals were so well faked that experts can't always tell them from the real thing.

Here is a 19th-century French settee, a copy of an older transitional model. It unites the cabriole  legs of rococo (Louis XV) with the simplified, straightened back (en chapeau)  and Greek-style ornament of the Louis XVI style: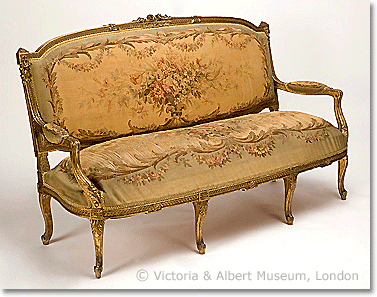 Giltwood settee with upholstery covered in tapestry, France, 1850-1880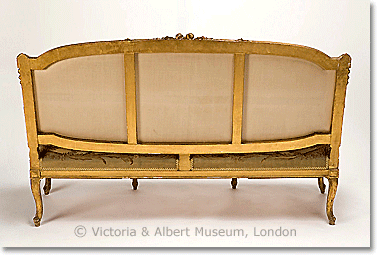 Giltwood settee (back view), France, 1850-1880
Antique French Settee
These are today's listings of Louis XV and Louis XVI style settees on eBay. Please be aware that these will be 19th-century copies, created at a time when the original Louis XV and Louis XVI settees were already a century old.  (Read about their history here.  More information about neo-classical (Louis XVI) settees here!)
Yet to find the information you're looking for?
Type a word or phrase into the search box below: