Home

›
Bedroom Colors
› Orange
Orange Bedroom Color Ideas
Orange bedroom colors are the warmest on the color wheel. Orange is yummy, vibrant, and the perfect color to cheer up a north facing bedroom!
The most popular bedroom colors to go with orange are 'citrus' color schemes, pistachio/aqua/orange combos, and blue/orange complementary color schemes.  Loads of examples below!
Juicy Orange Bedroom Color Schemes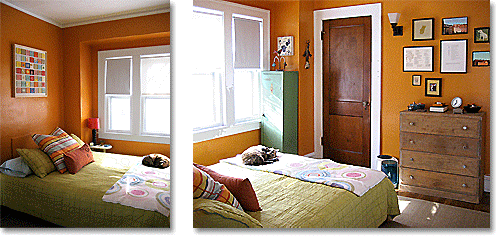 Orange bedroom paint color with pistachio green & aqua accents. © Maura Cluthe

Here's a gloriously gutsy bedroom color idea with orange. The combination looks so good because the large pistachio and aqua color splashes help to balance the full-on orange wall paint - otherwise this bedroom color scheme would start to look slightly claustrophobic.
When you're (re-)decorating, hold off on the bedroom wall colors as long as you can.

There's always a bigger choice of paints than of fabrics, carpets & furniture.
Blue-Orange Complementary Bedroom Colors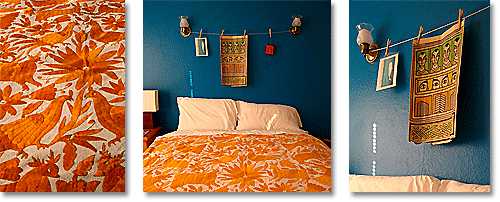 Blue/orange complementary colors for the bedroom. © Fifi B.
This orange and blue bedroom works well because the blue wall color has a lot of black and green in it - it allows the orange to take center stage and shine!  You could even use a much paler orange tint and you'd still get a gorgeous 'summer sunrise' color effect.
I also like the fanciful 'clothesline' (in lieu of a headboard) - it picks up the orange color of the bedspread. Nice work!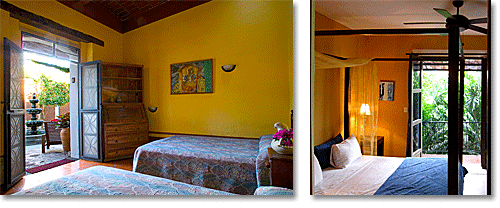 Blue & orange bedrooms in Mexico. © Las Mariposas (left); hullam (right)
Here are two blue/orange complementary bedroom color schemes from Mexico; one from Oaxaca (left) and one from Yucatán (right).
Note the effects of different orange hues: anything between the pale color of freshly pressed orange juice and vibrant tangerine looks great with blue! I think blue/orange complementaries work best if you use either (greenish-)blue tints - aqua, sky blue, turquoise, verdegris - or slightly greyed and darkened 'off'-blues.
For many more complementary  orange color ideas, check out the pages about orange combinations and blue color schemes.
Orange Bedroom With Neutrals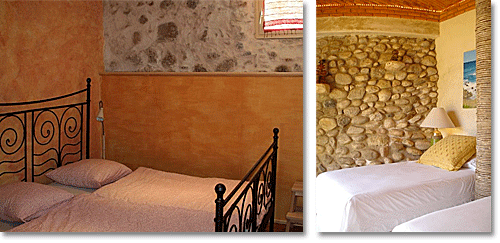 Mediterranean-style orange colors for the bedroom with natural stone walls.
© Christine & Hagen Graf (left); villa amor (right)
If you're looking to use an earthy orange color on the walls (left) or ceiling (right), make sure you stir a bit of warm grey, cream, or pebble color into the bedroom paint scheme. You'll find loads of orange color scheme inspiration on the pages about Tuscan colors!
Sometimes Orange Doesn't Look Great:
If you combine a muted and slightly discolored orange just with clean whites or completely neutral greys, the orange will look dirty by comparison. Here are two bedroom examples where a clean orange hue or tint would have looked much better: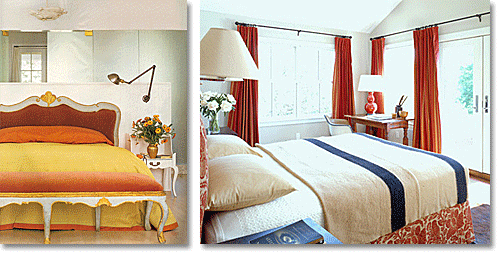 Orange-white bedroom color schemes. © left & right: Cassandra Lavalle
Not-Quite-Orange Bedroom Color Ideas
If you love 'real' orange color but find it too strong for bedroom color schemes, consider using burnt orange or terracotta instead. Both are much less saturate - they have a lot of brown and grey mixed in (as well as pink, in the case of terracotta). Both are very warm and comforting (paint) colors for a bedroom: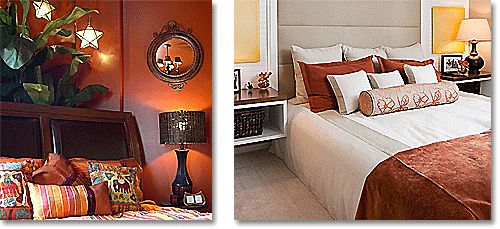 Bedroom color ideas in burnt orange & terracotta. © left: champagne chic; right: polygon

Another way to create an 'orange effect' in bedroom color schemes is to use the color orange exclusively as a wood stain.
This way, you get the orange hue in many natural variations, plus  beautiful wood grain patterns. (There's a lovely example on the page about blue bedrooms!)

Some examples of 'orangey', honey-colored wood stains:
 ♦ aged pine;
 ♦ colonial pine;
 ♦ honey maple;
 ♦ golden oak;
 ♦ colonial maple;
 ♦ Ipswich pine.
Orange Bedroom Accents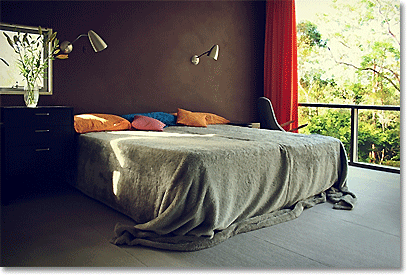 Orange bedroom accents, Rose Seidler House, Sydney, Australia. © Christian Tan

Orange makes an excellent accent color for popular bedroom colors:
Blue in most of its incarnations looks great with a touch of orange: aqua, turquoise, any cool bluish grey, Prussian blue, teal, cobalt blue, denim, French blue, Caribbean blue, duck-egg blue, Delft blue and many more.
Green is another great candidate for orange accents. Both bluish and yellowish greens are happy to be seen with orange: slate green, olive green, racing green, hunter green, verdegris, lime, eau de nil, as well as pale grayish greens like Spanish moss.
Mocha and chocolate brown also go well with orange accents, particularly if they're really deep, velvety brown shades (as in the bedroom color scheme above).
More Orange Bedroom Color Ideas Here
(Click A Pic):
Mini Bookshops (In Partnership With Amazon)
a) Bedroom Inspiration:
b) Color In Interior Design:
c) Color Wheel Charts:
Yet to find the information you're looking for?
Type a word or phrase into the search box below: