Home

›
Tuscan Interiors
› Tuscan Kitchen Photos
Real Tuscan Kitchens: Ideas To Steal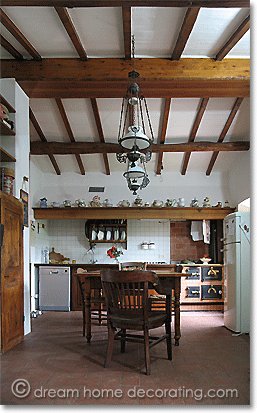 Real Tuscan kitchens (like most Italian kitchens) are eat-in kitchens. There are very few Tuscan dining rooms in rustic homes and farmhouses!
You'll find some Tuscan dinnerware as well as other typical Tuscan style kitchen accessories but above all, these are warm and atmospheric places that celebrate the Italian passion for good food.
I took these photos in the region around Volterra and San Gimignano, the "heart" of Tuscany, so you can copy authentic style ideas from ruggedly beautiful Tuscan kitchen designs!
Tuscan Kitchens, #1:
Tuscan Farmhouse Kitchen Near Pomarance
Here's another view of the Tuscan farmhouse kitchen above.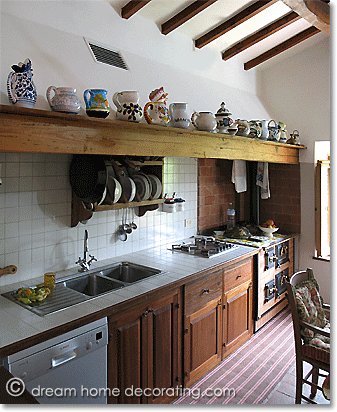 Tuscan farmhouse kitchen
Province of Pisa, Italy

Essential elements:
♦   wood-burning stove/cooker (in the far corner);
♦   simple, natural finish wooden cabinets;
♦   plain white tiled worktop/splashback;
♦   contemporary gas hob & steel sink;
♦   traditional wooden dish rack;
♦   a wall-to-wall chimney, and
♦   a collection of ceramic jugs from Tuscany.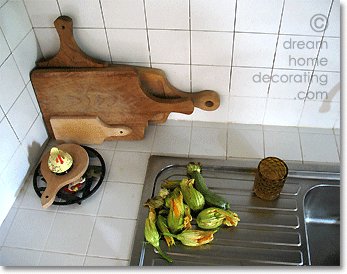 While this kitchen may look quite low-key, it perfectly complements the grand open-beam ceiling and the simple terracotta floor tiles.
The typical warm color scheme and natural look of Tuscan kitchens is repeated in small detail, like this collection of wooden cutting boards.
The walls are painted white (this is customary in Tuscany kitchens - I'm yet to visit an authentic Tuscan design kitchen that has colored walls!)
The calm, understated decoration is accented with beautiful natural detail, like freshly cut flowers and vegetables from the garden.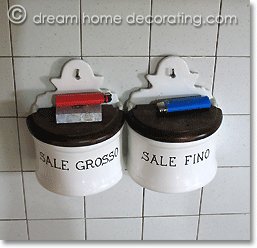 The owners have put in a little reference to historic Tuscan style kitchens as well:
These two salt cellars (one for fine salt, one for coarse) are antique family heirlooms that just happen to look perfect on the simple tiled splashback (even though I really should have taken the lighters off before taking the photo ;-)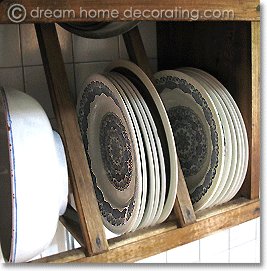 Authentic Tuscan plate rack

Tuscan dinnerware is not cheap, and many Tuscan homes don't use it for everyday eating - some just have a few plates (if any).
Instead, the dinnerware of choice in a Tuscan farmhouse kitchen is often heavy, chunky white porcelain.
Occasionally, you'll also find transfer-printed creamware like the plates in this kitchen!
Take-home ideas from Tuscany style kitchen #1:
Terracotta flooring sets the scene and creates an excellent starting point for a warm or neutral Tuscan color palette
Use simple unpainted wooden cabinetry in mid-tone browns (like Cyndy did in her Tuscan style kitchen makeover), or in darker wood tones (like Kim did in hers).
Tuscan canisters and other kitchen accessories are a great way to evoke Tuscan flair when your kitchen is nowhere near Italy, but you really don't need fancy tiles or splashback murals.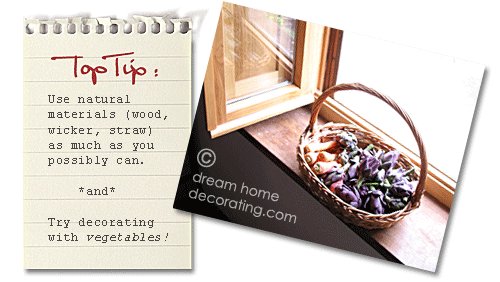 Tuscan Kitchens, #2:
Small Townhouse Kitchen In San Gimignano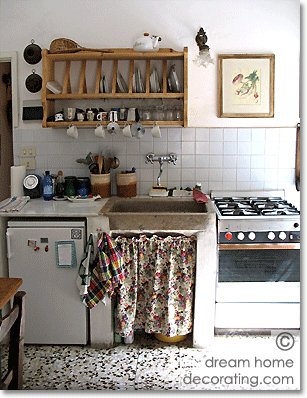 This tiny, bright and sunny apartment kitchen is in an ancient town house in San Gimignano (Province of Siena).

Well, it may be tiny, but there is still space to entertain guests at a table for six (see proof here)!

It's also clear from the number of hardworking Bialetti stovetop espresso makers in all sizes that the smallness of this kitchen is no obstacle to having lots of people over!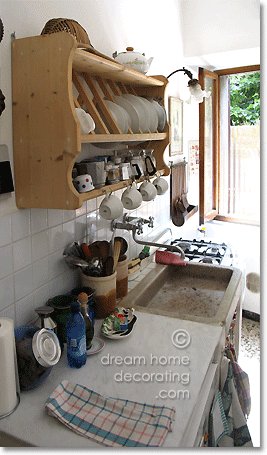 Tuscan townhouse kitchen with antique stone sink

The kitchen has an antique, polished stone sink and a small marble worktop.
Both are drywalled into place with enough space underneath for a fridge and the usual kitchen paraphernalia.
The splashback is tiled in white, just like the one in kitchen #1. (No, these homes don't belong to the same person :-)
Differently from kitchen #1, this one has terrazzo floor tiles. They're much cheaper than seamless terrazzo flooring but they give the space an unmistakeable Italian look! (A bit more info about terrazzo here.)
Here's a closeup of the lower part of the plate rack. (I haven't seen electric espresso machines in any of these Tuscan kitchens!)

Tuscan dish rack with stovetop espresso makers, cups & glasses

Even though this apartment does not have any Tuscan 'country' features (e.g. rough walls, exposed beams, terra cotta tiling), it still manages to look time-honored, warm and very 'Italian'.  Part of the Tuscan allure is due to the materials that were used (terrazzo, marble, stone, natural-finish wood).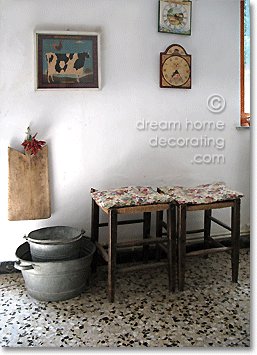 But the vintagey wall art (similar wall clocks here), the timeworn cutting board and those beautiful old zinc tubs provide additional Old-World charm. (By the way, the tubs are no decorating items, as you will see below!)

All the chairs in the room, including these two stools, have rush seats. Straw and wood are the most typical materials in traditional Tuscan chair making. I've never seen wrought-iron chairs (or metal tables, for that matter) in Tuscan homes.
Take-home Tuscan kitchen ideas from #2:
Terrazzo flooring is a good alternative to terra cotta, especially if your Tuscan design kitchen does not get much natural light and could do with a light-reflecting floor.
A wall mounted, sturdy wooden plate rack would add heaps of Tuscan flair to any country kitchen. It needs to be unpainted and really solid. If you can't get one, try an open hutch like Cyndy's.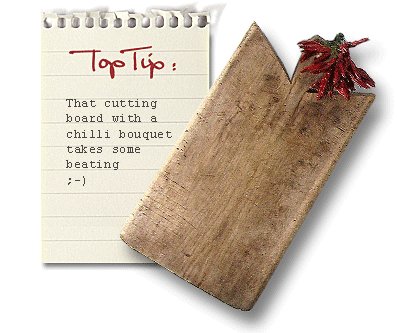 Tuscan Kitchens, #3:
Very  Vintage Tuscan Farmhouse Kitchen

Tuscan farmhouse kitchen with wood-burning oven/stove, Province of Siena, Italy

This Tuscan farmhouse kitchen is about as unpretentious as it gets. It is also fully functional, very warm and inviting ...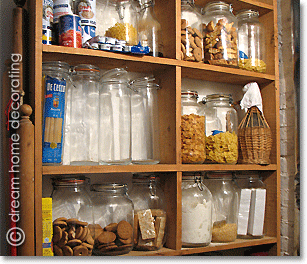 ... and I got to enjoy the freshest, most delicious meal at that kitchen table (♥!)
When you leave the kitchen through the archway on the right, you get to a floor-to-ceiling 'larder' shelf with all the typical store-cupboard ingredients of an Italian kitchen: pasta, biscotti, flour, Chianti.

This is an easy-to-copy decorating trick for Tuscan style kitchens anywhere in the world: Use tall 'utilitarian' glass containers of similar design and height to display different types of pasta (conchiglie, farfalle, linguine, gnocchi sardi, fusilli, penne, lumache ...) and while you're at it, why not also fill a few tubs with dry beans and lentils. Or amaretti and almond biscotti. Or corn flakes ;-) It will look amazing and very Italian.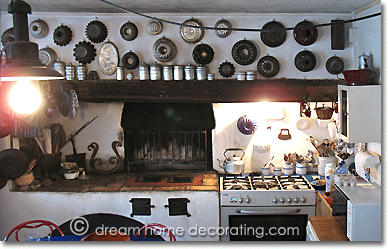 The chimney of this kitchen stretches along one entire wall, covering both the antique wood burning stove and the modern gas cooker/oven.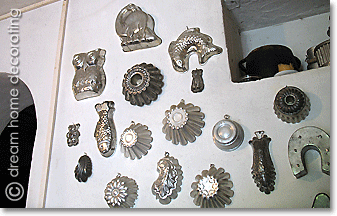 The owner created a quirky, playful wall decoration out of vintage baking tins in silver/grey tones.
It looks perfect with all the other metal kitchen implements and cooking pots ...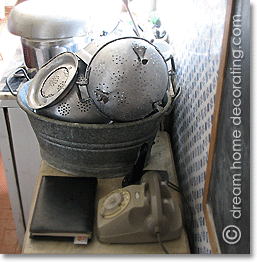 ... of which there are many indeed!

So now you know why a Tuscan kitchen needs a zinc tub. Because where else would you put the big stuff after washing up?

And here's a list of all the essential elements in this Tuscan farmhouse kitchen: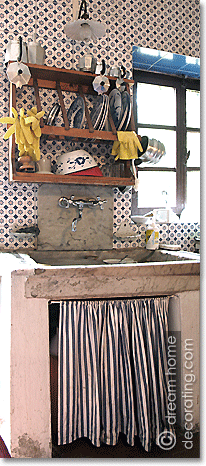 ♦   plain terracotta flooring;
♦   distressed white wooden cabinets;
♦   chunky marble sink & splashback;
♦   wooden plate rack;
♦   wood-burning oven/stove;
♦   modern gas hob & oven;
♦   wall-to-wall chimney;
♦   a large kitchen table;
♦   did I mention stovetop espresso makers?
This is also the only kitchen on this page that has patterned tiles.
They're very simple, industrially produced tiles with a distinct 50s/60s look about them. (For info about hand painted Tuscan tiles, check out this page!)


Take-home ideas from Tuscan farmhouse kitchen #3:
Don't be precious with the decoration - it's a working kitchen. Decorate with well-used items. Continue using them if possible, and hang them back on the wall afterwards. This would work well with the baking tins, but also with wooden cutting boards of different shapes and sizes. Or with Tuscan dinnerware.
Don't sweat "correct" kitchen tiles for Tuscan kitchens. In Tuscany, simple smallish white tiles (or small geometric patterns on a white ground) are just fine for a kitchen. (See Nelle's Tuscan design kitchen makeover project for more info on tiles!)

N.B. 'Tumbled' marble/travertine tiles are a modern invention. They may look worn or rustic but they're not genuinely, historically Tuscan. I've never seen them on a real  Tuscan worktop or splashback.
Decorate with food. Pasta looks gorgeous.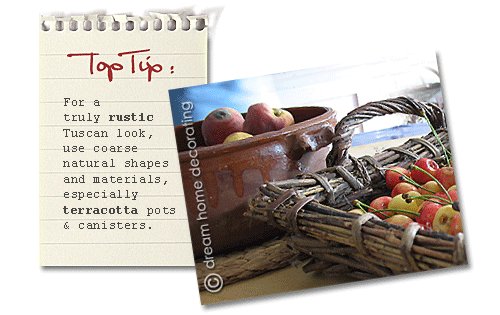 For More On Tuscan Kitchens & Tuscan Decorating, Click A Pic:
I've also put a little 'library' together for you (in partnership with Amazon): Check out these books about Tuscan homes, Tuscan interiors and Tuscan decor; they all come with original photos.
Yet to find the information you're looking for?
Type a word or phrase into the search box below: