Tuscany Style Kitchen Design:
Making Them Look Like Real Tuscan Kitchens
A Tuscany style kitchen in the Southern US gets a makeover to look like authentic Tuscany kitchens: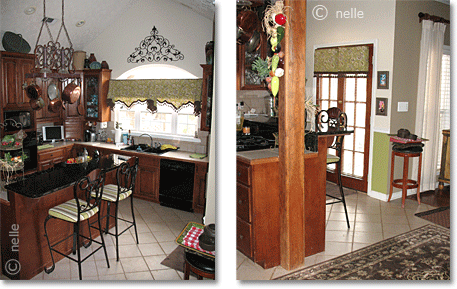 This is Nelle's kitchen. She would like a makeover in the style of original Tuscany kitchen designs. This page shows how she could achieve a 'Tuscany look' with very little investment!
Hello Renate,
I'm looking for new countertops, floor and wall color for my Tuscany style kitchen. I would like a rustic look & am planning to beam the ceiling as well.
Maybe terracotta flooring would be nice, or stone in natural colors.
Here in the US, the interpretation of Tuscan kitchens (and French ones, for that matter) is totally 'over the top' with tons of color: faux-finished walls in ochre, red, sometimes blue. Designers use iron accents in black, sometimes copper accessories, print curtains or drapes with prints.
Many of the local decorators use the same colors & styles in every kitchen you enter - you immediately know who did the design!!
I want something different - not Southern US decorating, but something unique that could be seen as 'real' Tuscan style kitchen design.
I have painted this kitchen three times and still am not getting the 'wow factor' that it deserves. I would appreciate your input!
Thanks a lot,
Nelle (USA)
PS) I just have to tell you how much I enjoy your website and all the valuable material there.
Hi Nelle,
Judging by your photos, yours already has the makings of a fabulous Tuscany style kitchen!
In my reply I'll go a little beyond your request, and comment on ...
So here goes ...
1. Painting A Tuscany Style Kitchen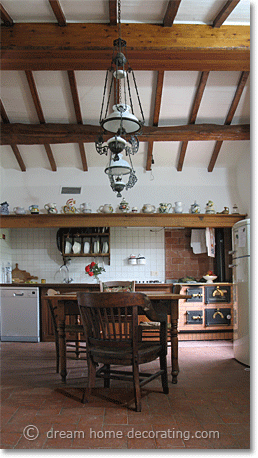 The walls of rustic Tuscan kitchens are usually just whitewashed, and they don't get any fancy treatment whatsoever.
This often comes as a bit of a disappointment to non-Italians!
However, the low-key look of Tuscan walls enhances the beauty of rustic Tuscan kitchen materials, like flooring and cabinetry.
The white backdrop also helps to show off the hand decorated ceramics that often adorn Tuscan kitchen walls or mantels, and the wall color blends beautifully with - typically white - Tuscan window treatments.
Check out this authentic Tuscan kitchen (pictured left) and two other original Tuscan kitchen designs here!

Seriously, the only Tuscany kitchens where I've seen colored walls were in a few vacation rentals for foreigners :-)
All this doesn't mean you can't paint your walls in "Tuscan colors", but if you want an authentic, rustic Tuscan-look kitchen, white walls are the way to go.
Return to Top
2. Tuscany Style Kitchen Flooring

I think your flooring idea is spot on - at least 90% of the traditional Tuscan kitchens I've seen had terracotta floor tiles.
Here's a mockup of what terracotta flooring would look like in your Tuscany style kitchen: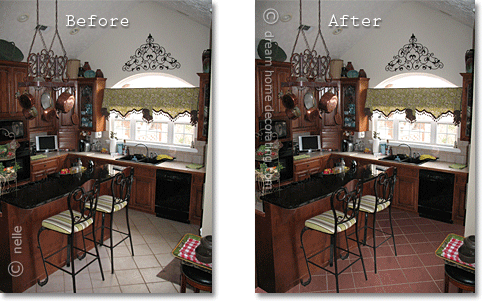 These pictures show how the material would darken the overall look of your kitchen. At the same time, whenever the sun shines in, the terracotta color would bathe the walls in a soft peachy hue.

It's worth getting a lot of tile samples in before making a decision - you'll need several of each type - to check the color impact they would have on your Tuscany kitchen.
This is especially important as the cherry kitchen cabinets already have a reddish bias that needs to be matched with the right floor color. I'd probably go for a relatively light, grayed color, similar to Cyndy's kitchen in CA. This lovely room has it all (minus the Tuscany style kitchen curtains):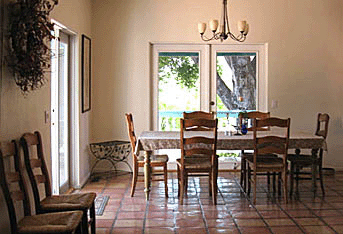 Return to Top
3. Tuscany Kitchen Curtain & Fabric Ideas
Before I get onto your request for Tuscan style countertop tiles, I'd like to neutralize your current color scheme a little ... hope that's okay ;-)
Traditional rustic Tuscan homes - and Tuscan kitchens - usually have white cotton curtains, like these: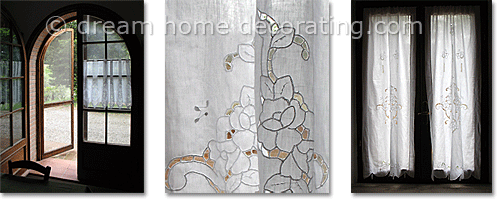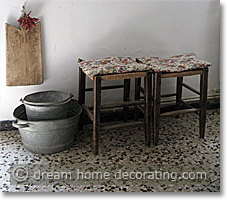 A Tuscan kitchen curtain can be made of white lace, or just plain white cotton with a lace trim.
In some places, I've also seen semi-sheer cotton panels interspersed with lace.
Have a look at the page about Tuscan window treatments for more examples!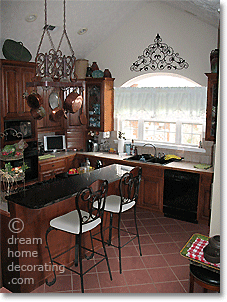 Then, there's the issue of stripes - I haven't come across a lot of striped fabrics in Tuscan kitchens (apart from very pared-down simple ones).
The majority of decorating fabrics, for example for seat pads and cushions, were either in solid colors or in florals (as in the rustic Tuscany style kitchen above left).
So - just to demonstrate, I've taken the liberty of temporarily changing your curtain and the seat pads on your bar stools.
(We'll later pick a new seat pad color from a selection of Tuscan kitchen accessories.)
Return to Top
4. Tuscan Kitchen Tile Ideas

Many rustic Tuscan kitchens just have white tiles on splashback & countertop (case in point: the Tuscany kitchen at the top of this page).

Other Tuscany kitchen designs use very simple, geometric tile patterns (often blue on a white ground) - similar to these two:

Yet another option is to use a worktop/splashback of veined marble (from the famous white marble quarry of Carrara in Northern Tuscany). This could look great in your kitchen - it would give you a 'chic Tuscan' look for
countertops,
splashback and
breakfast bar.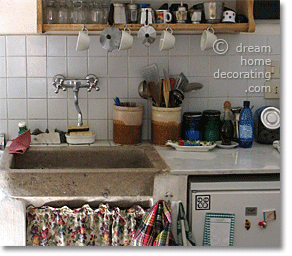 In working Tuscan kitchens, marble worktops are often combined with white-tiled splashbacks, as in this humble kitchen in an ancient Tuscan townhouse.

If you like this option but would prefer a more 'antique' Tuscany style kitchen look, you could replace the ordinary white tiles with handmade Italian tiles.

I'm going to illustrate this option for you, using handmade tiles sourced by Manuela & Tiziana of thatsArte, an excellent, small company based in Viterbo, Italy (40 miles down the road from Tuscany).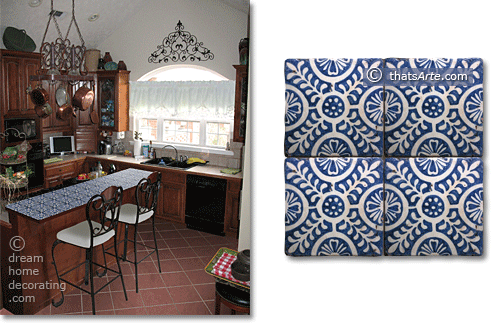 Here's your breakfast bar, tiled in the "Restauro" tile design, one of over 200 ideas from thatsArte's handsome collection. It's the kind of tile that would have been used in 19th-century Tuscany, Umbria and Lazio, and it comes in four colorways, with seven designs each.

And there's more:
You could, for example, decide to replace your countertop & splashback with a simple tile design in the spirit of rustic Tuscan kitchens: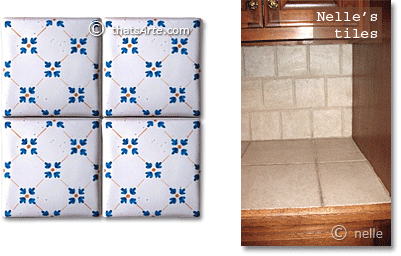 But you could also choose to go a much simpler route, by keeping your current countertops. They're quite appropriate as they are, and unlikely to raise any eyebrows in Tuscany!
The only surface that would not be at home in rustic Tuscany kitchen designs is your smooth, shiny, jet-black breakfast bar - in Tuscan Tuscan kitchens, there'd be a brown wooden kitchen table in place of your kitchen island.
If you were to keep the black granite, I think I'd add some authentic handmade elements (like baskets and hand decorated ceramics) to balance it out.
Return to Top
5. Tuscan Kitchen Accessories
Here are some ingredients for an authentic Tuscany style kitchen:
a) Tiled Trays & Trivets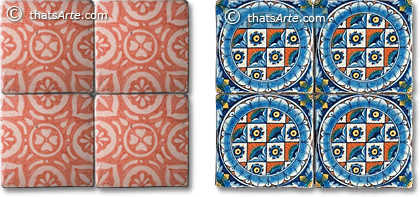 Have a few simple wooden trays made with Tuscan/Italian tiles - when not in use, they look great on the wall or on top of the cupboards.
To turn tiles into trivets, just glue a layer of cork or felt underneath, to avoid scratching any surfaces.

b) Tuscan/Italian Plates & Bowls
Your wrought-iron ornament on the front wall looks delicate and very pretty, and it perfectly fits into the space, tracing the ceiling line.
However, wrought-iron wall decor is actually more common in the South of France than it is in Tuscany ... so let's see what the space would look like if this wall were decorated with handmade Italian plates: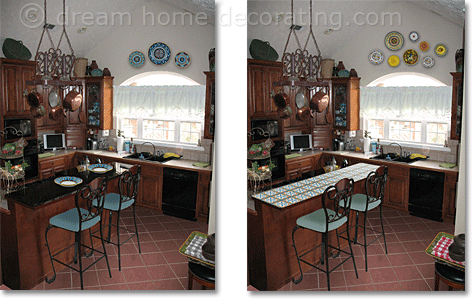 The countertop tiles are from thatsArte's tile collection, and here's a selection of platters & plates for Tuscan kitchens:


c) Tuscan kitchen accessories
When it comes to Tuscany style kitchen accessories, one way to cut down on expenses is to buy only one - or a few - fine exemplars of authentic Italian ceramics (="star") and then create bulk with simpler, locally available ceramics in a solid color (="chorus line").
So consider investing in a hand decorated ceramic Italian kitchen canister or a footed bowl - even on their own, pieces of Tuscan majolica will give you heaps of Tuscan kitchen atmosphere!
Return to Top
6. Tuscany Style Kitchen Furniture
Similarly to wrought-iron wall ornaments, metal furniture is practically unheard of in Tuscan kitchens.
Rustic Tuscan kitchen tables are made of wood - the fancy ones have turned legs - they're usually mid-to-deep brown and stand uncovered in all their bare, natural beauty.
The chairs in Tuscan kitchens are rush-seated affairs - no metal or garden furniture and very few upholstered chairs make it into Tuscan style kitchens.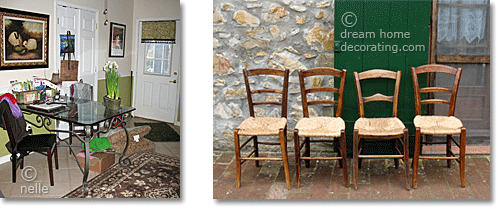 If at all possible, replacing the metal-and-glass table with a wooden one would add another large helping of Tuscan flavor to your kitchen and adjoining spaces!
Return to Top
7. Tuscany Style Kitchen Makeover: Before & After!
Here's what we started out with: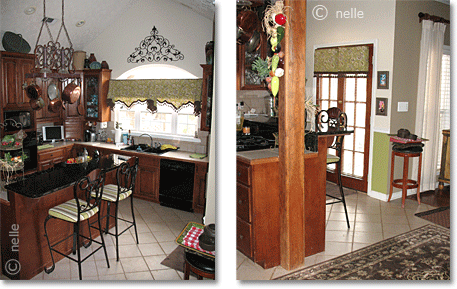 And here's a mockup of the Tuscany style kitchen you could end up with - or rather, one of many possible Tuscany kitchen designs!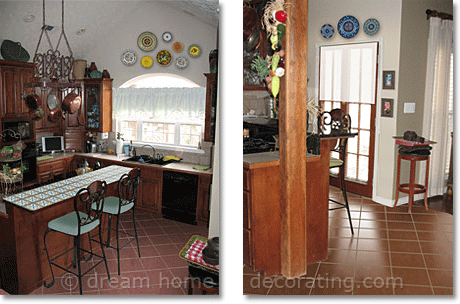 Let me know what you think, Nelle!

Hello Renate,
What a great project you have done! I really, really like it.
So many bits of information and ideas that I would have never thought to consider, such as leaving the countertop as it is.
I did bring home some samples for the floor, but they are not really the look I am after, they are terra cotta color but ceramic and the look just isn't right. But I'm sure the right one is out there.
Can't wait to start looking for the plates and accessories! I'm also looking for white curtains ... however, I do have tons of vintage linens, and perhaps a wonderful sheet could be made into the curtains with some added lace or crochet trim. Will keep you posted.
Thank you so much, I highly recommend your website to my friends and hold you in the highest esteem.
Best wishes,
Nelle
Yet to find the information you're looking for?
Type a word or phrase into the search box below: