Home

›
Valentine Crafts
› Heart Templates
Valentine Heart Templates:
Free, Printable, Blank Valentine Day Hearts
The Valentine heart templates on this page cover the different shapes and sizes you may need for Valentine's day crafts.
You'll also find patterned Valentines Day hearts if you prefer those.
A few ideas for using these Valentine day hearts:
window garlands,
outdoor decor,
door decorations,
Valentine cards,
place cards,
coasters,
dinner invitations,
or thank-you notes.
To Download The Valentine Heart Templates:
You will need Adobe Reader installed on your computer (the latest version is recommended). You can download it here (a new window will open so you can download it without leaving this page).
If you want to open the files in your browser window, just click on the links. To download the files to view later, right-click on the links and choose "Save Target As" or "Save File As". Then select where you want to save the file on your hard drive.
Once you have saved the file, locate where you saved it, and double-click to open. In order to print the Valentine heart shape images, open the downloaded file, and select the "Print" option from the menu.
1. 'Dynamic' Valentine day hearts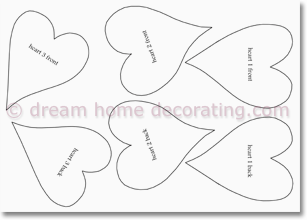 These are my favorite Valentine heart shapes, so you're getting them first.
Here's what they look like as an outdoors Valentine garland!
2. Coffee-Bag-Sized Valentine Heart Templates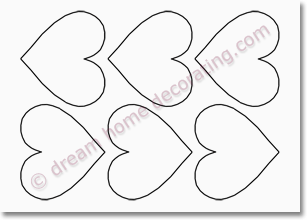 These are the templates I used to make the Valentine door decorations.
You can fit exactly three of these heart shapes on the back of a British coffee bag.
3. XL Valentine Day Hearts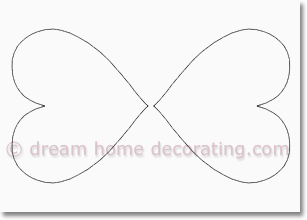 If you need a Valentine heart print with a bit more impact, this one might fit the bill.
Looking for something ginormous (but still printable)? Take this template and scale it up!
Click to download the XL Valentine heart here.
4. Cute-Sized Valentine Hearts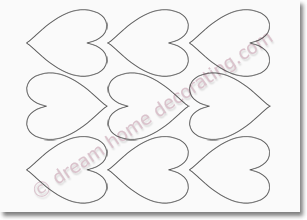 This size would be good for a paper Valentine heart place card in the style of Frances' Christmas version ...
... glued to a toothpick and stuck into a brownie or cupcake!
Click to download the sheet here.
5. 'Little Note' Valentine Heart Templates I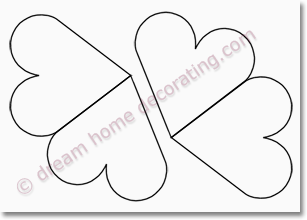 Use this template for a paper Valentine heart that folds into a note card.
Whenever you're working with card, it's best to score the fold line first. This compresses the fibers and gives you a fine, razor sharp fold.
6. 'Little Note' Valentine Heart Templates II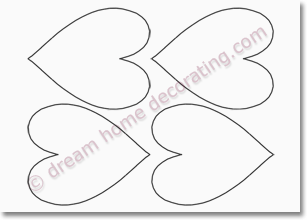 These Valentine day hearts are a little more curvy than No. 5, but you could still turn them into note cards:
Fold colored card and place the heart template with one side slightly over the foldline. Stick the heart template down with tape and cut out, leaving at least 1 inch of the fold intact. Click to download the template here.
Yet to find the information you're looking for?
Type a word or phrase into the search box below: