Home

›
Valentine Crafts
› Valentine Paper Heart
Valentine Paper Crafts:
How To Make A Valentine 'Heart Of Hearts'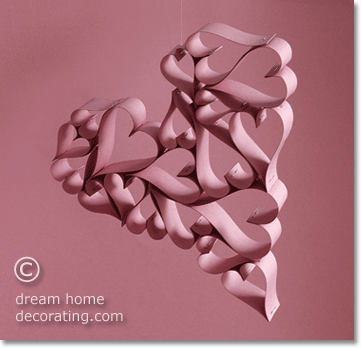 Valentine paper crafts like this 'heart of hearts' are quick and easy to make. Scale them up or down to suit your space - you can make ginormous hearts using this technique!  They're sweet, homemade Valentine ideas for a wall, door or shelf!

You will need:
flexible colored card between 170gsm/3-sheet/230 microns and 220gsm/4-sheet/280 microns. (I used 240gsm card and that was a bit on the stiff side);
cutting mat;
craft knife;
metal ruler
stapler or glue.

How To Make These Valentine Paper Crafts: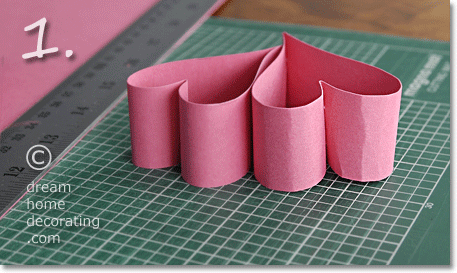 Cut paper strips in the "correct" direction.

Step 1: Prepare - Analyze the paper direction before cutting loads of paper strips. You want the paper to bend with ease and grace, rather than break and ruin your work. The easiest way to find out which direction to cut your strips is to cut one inch-wide strip in each direction, make tester hearts and compare the results.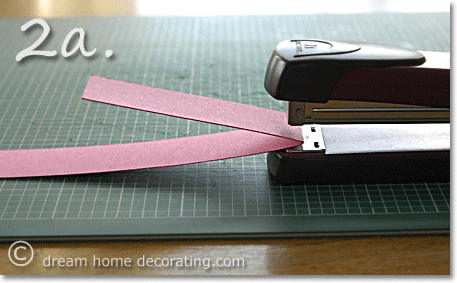 Fold a paper strip, and staple (or glue) the fold.

Step 2: Cut card strips between ½ and 1 inch wide. (A wider strip will give the construction more stability. My strips were exactly 1 inch wide.)  Fold a strip over and staple it about ¼ inch in from the fold.
If you want to glue your Valentine paper crafts instead of stapling them, take step 3 before 2b. Then place a little glue right inside the bend, fold and let dry thoroughly before you continue.

I prefer stapling because it's fast and reliable, but you can't hide the staples. I quite like that because it takes some of the, well, baroqueness out of this Valentine ornament.

Tease the both sides of the strip into gentle curves.

Step 3: Prepare the heart shape. This is very important, particularly if the card stock is not very bendy. If you don't prep the strip it could break. Gently but persistently tease each side of the strip into a nice round curve.

Staple or glue the heart into shape.

Step 4: Make paper hearts. Loads of paper hearts, in different sizes.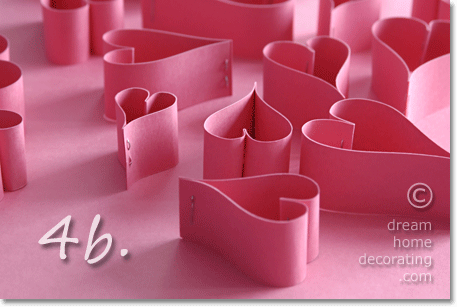 Step 5: Lay out a heart shape: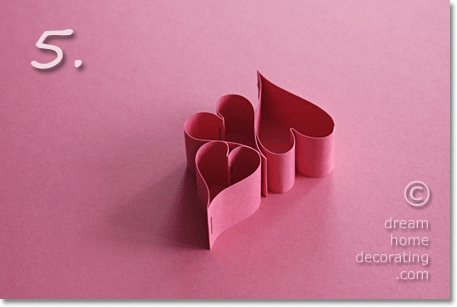 Bottom tip of the Valentine heart.
Step 6: Once you have composed a satisfactory heart shape, plot out where you're going to glue the hearts together: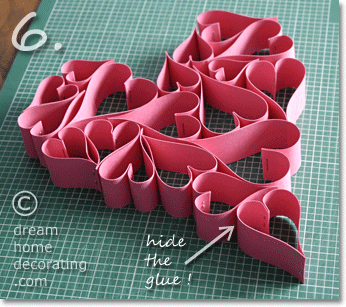 Heart, complete

Then, start gluing from the top or bottom of the heart and work your way to the other end. Place the glue at the center of the strip to keep the gluing points invisible.

And then you're done! You can easily make more than one of these Valentine paper crafts in one afternoon.)
Yet to find the information you're looking for?
Type a word or phrase into the search box below: