Home

›
Valentine Crafts
› Valentine Hearts
Valentines Day Hearts: Pre-Designed,
Printable Valentine Heart Templates
Valentines Day hearts to download, print, and use for your homemade Valentine ideas and Valentine paper crafts.
Every Valentine heart print on this page comes with a matching front and back.
Use these Valentine heart templates for Valentine Day outdoor decoration, or turn them into ...
window garlands,
Valentine cards,
place cards,
coasters,
dinner invitations,
or thank-you notes.
To Download The Valentine Heart Templates & Patterns:
You will need Adobe Reader installed on your computer (the latest version is recommended). You can download it here (a new window will open so you can download it without leaving this page).
If you want to open the files in your browser window, just click on the links. To download the files to view later, right-click on the links and choose "Save Target As" or "Save File As". Then select where you want to save the file on your hard drive.
Once you have saved the file, locate where you saved it, and double-click to open. In order to print the Valentine heart shape images, open the downloaded file, and select the "Print" option from the menu.
'Victorian Print' Valentine Heart Templates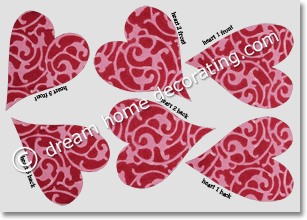 These Victorian inspired Valentines Day hearts look vibrant and elegant.
Here's what they look like as an outdoors Valentine garland!
Click to download the 'Victorian Print' Valentine Hearts here.
Sweet & Simple Valentines Heart Print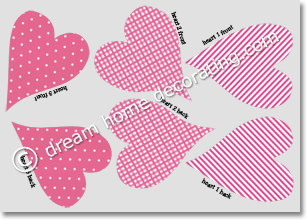 These printable Valentine hearts in checks, stripes and dots would be perfect for any style that's not too ornate.
Use them with country or contemporary interiors for a picture-perfect look.
Click to download the 'Sweet & Simple' Valentine Hearts here.
'Hydrangea Blossom' Valentines Day Hearts
This Valentine heart print looks more 3-D and more vivid than the others.
It's a little more involved to cut out, too, but it's worth it!
Try it out as a coaster, or use it to pretty up a Valentine's Card.
Click to download the 'Hydrangea Blossom' Valentine Hearts here.
Yet to find the information you're looking for?
Type a word or phrase into the search box below: