Home

›
Valentine Crafts
› Valentine Table Decor
Make Valentine Table Decorations
From Tea Candles & Colored Card
These Valentine table decorations look posh, but they're a doddle to make.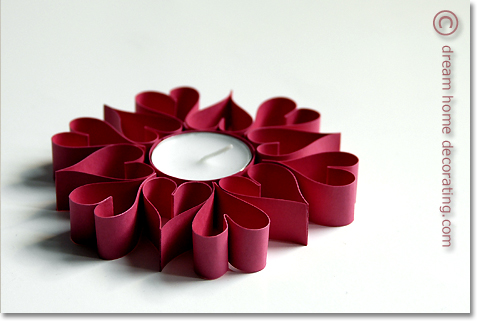 They're cheap, quick, and extremely versatile Valentine's day crafts.
The elaborate version (above): Create a 'heartsy' tea light holder in intricate patterns (more examples further down!)
The easy version (below): just make lots of little paper hearts and scatter them on the table, with or without tealights: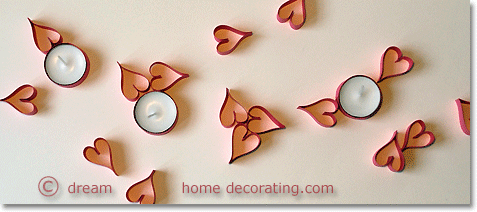 To Make These Valentine Table Decorations ...
... you will need:
flexible colored card, around 220gsm/4-sheet/280 microns.
cutting mat
metal ruler
craft knife
glue, or a glue gun (I recommend the gun)
Step 1: Create The Basic TeaLight Holder Shapes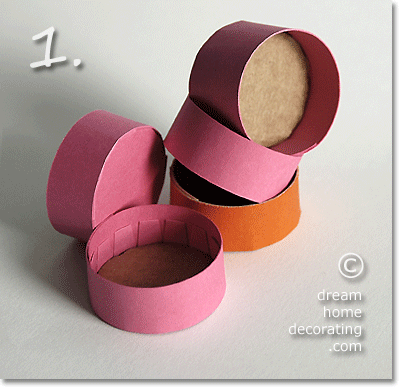 The instructions for making the basic tea light holders are here.
If you're short on time, you could choose to skip this step entirely; just make the paper hearts and scatter them around glass votives across the table.
Step 2-4: Create The Valentine Hearts
If you've made the tealight holders first, measure their height and cut strips of card in exactly that width.
Most of the Valentine hearts on this page were made from 5" (12.7cm) card strips that were 0.7" (1.8cm) wide.
Fold each strip over in half. Bend both sides into a gentle downward curve; this will make it easier to get a good heart shape later on.
Then, place a small dab of glue in what will become the 'notch' of the heart, press together and let dry thoroughly.
Next, place another dab of glue at one bottom end of the strip and press both ends together.
When I make these hearts, I somehow always end up with a tip that's just a bit too long and pointy. Or I've managed to squish out some glue at the bottom. If that happens to you as well, no probs: Wait until the heart is fully dry and then snip off a narrow strip at the end.
Step 5: Create Your Valentine Table Decorations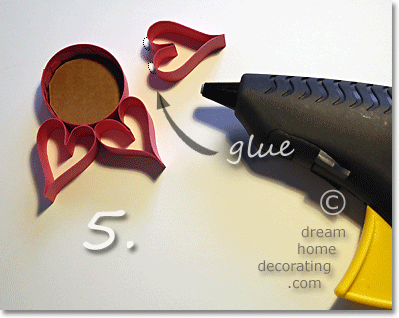 Playtime! You can glue the Valentine hearts to/around a tealight holder, or to each other, or not glue them at all. Endless variations are possible! Here's a closeup of the Valentine table decorations above:
Valentine Table Decorations From Paper Strips:
My Ideas List
1. One heart, one tealight, in a neat line down the center of the table. This is actually a rather time-consuming decoration, because you have to make so many tealight holders.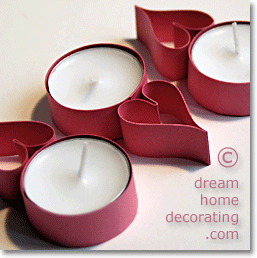 2. For 'Valentine blossoms' on your table, here are three pattern options: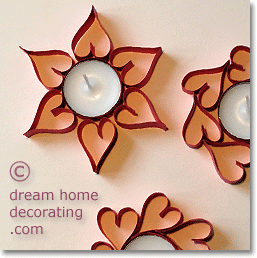 3. Alternatively, try this elaborate version: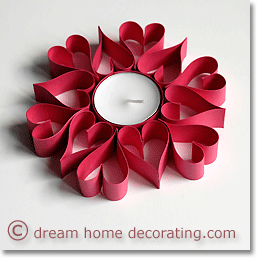 4. Little heart clusters look very very sweet, too: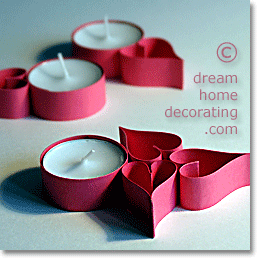 Making just the clusters is a good compromise if you haven't got much time!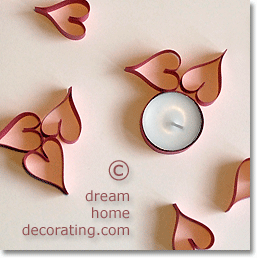 5. And here's what it would look like if you place the tealights in a 'sea' of hearts:
Happy Valentine's Day! Check out these homemade Valentine ideas, too:
Yet to find the information you're looking for?
Type a word or phrase into the search box below: