French Country Bathrooms
"French country bathrooms & vanities: design your own, with these original pictures and creative ideas."
On this page:
Country French Bathrooms: How They Got Started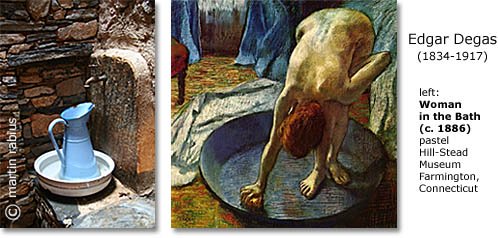 Country French bathrooms (and vanities) are a thing of the 20th century.
Before 1900, people in the French countryside would have had a pitcher and a washbowl on a stand in their bedroom.
And if they wanted to wash themselves down a bit more thoroughly, they'd bring a basin into the kitchen (usually the warmest place in the house).


However, pitchers & bowls weren't just the "poor people's French bathroom".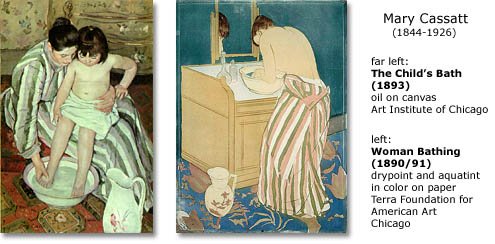 The American painter Mary Cassatt, who lived much of her adult life in France, painted these French ladies at their toilette, in fashionable dress and elegantly decorated rooms. The only differences between their  'bathroom' and that of a farmhand in Provence were the comfort of their surroundings and the quality and design of their porcelain.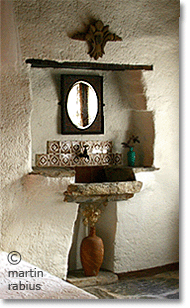 N.B. Cassatt's 'Woman Bathing' (above) shows the precursor of today's country French bathroom vanities - all that's changed is that nowadays the washbowl is fixed in place and connected to a water supply system.  (Well, and the designs have changed a bit, too.)


The luxury of clawfoot bathtubs and porcelain washbasins was still decades away when running water was first installed in French country homes (pictured left, a village house in the Haut Languedoc):
cold water only
rough stone washbasin
faïence-tiled splashback
wood-frame mirror
no bathtub
no vanity (or rather a 'stone vanity')
Now, let's take a leap to modern-day country French bathrooms (and vanities):
Colors, Materials & Styles
For Country French Bathrooms And Vanities
Current country bathroom decor in France combines a frugal look and a few historical references with simple, quality materials.
Here are some examples from the South of France:


Notice how none of these pictures show the ornate, curvy, wooden "country French bathroom vanities" that are sold under this name in the (non-French) western world.
The two central photos above show 'vanities' made of drywall and then tiled, with curtains instead of cabinet doors. The fabric adds a soft quality to the otherwise 'zen' bathroom style.
The French bathroom vanity to the right is a repurposed desk, with the top tiled to keep the water from spoiling the wood.
The round washbasins recall the look of antique porcelain washbowls.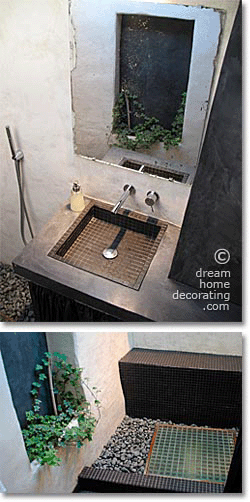 Other French country bathrooms I've seen recently include the one to the left.
The style is very of-the-moment, but the bathroom retains a rustic simplicity, and the materials have a raw, natural feel.
(I love the pebbles around the sides of the shower tray, and the ivy that's planted into a recess in the wall.)

The details:
crafted out of colored concrete
color scheme:
  *  charcoal (tiles, walls, pebbles)
  *  green (plants, glass)
  *  pale gray (walls)
  *  silver (appliances)
elements:
  *  new (concrete, tiles),
  *  old (mirror),
  *  natural (pebbles & ivy)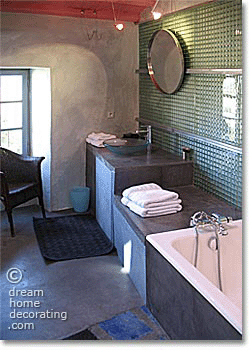 Pictured right is a similarly clean-lined French bathroom. (It doesn't look very 'country', but it's part of an old Provençal country house, not far from the Mediterranean Sea.)
This bathroom contains more color than the one above: some vibrant blue floor tiles, a red ceiling, an expanse of green glass.

Now, do all these contemporary examples mean that you shouldn't have your Louis XV French bathroom vanity? Of course not.
Just be aware that French country bathrooms in styles that predate the 20th century are completely made up. They just didn't exist much before 1900.

On the other hand, rather than 'faking' your antique French country bathroom decor, you can always integrate a French antique piece (or reproduction furniture) into a stylish, contemporary French country bathroom.
Below is an example of quintessentially French country bathrooms - a blissfully nonchalant mix of
old and new
sleek and rustic
high-tech and natural: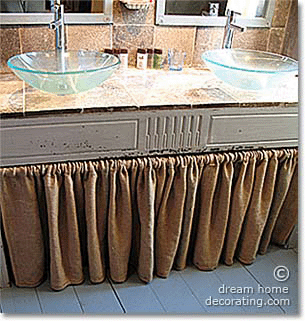 Choosing Bathroom Vanities - Excellent, eminently usable advice to help you choose the right designs and materials for your bathroom: Rob Levesque's Home Style Choices is a treasure trove of knowledge, information and great tips when it comes to remodeling your home.
French Country Bathroom Decor Ideas
What could you do to turn a run-of-the-mill bathroom into a 'country French' affair? Here are some elements for you to play with.
1. TILES

Whether tumbled marble, mosaic tiles, or glazed tiles with old-fashioned patterning, they all look good in French country bathrooms. You could tile the whole room, or just a few select surfaces.
Tiling the top of an old/antique piece of furniture (e.g. an old table or cupboard) will integrate this piece into a contemporary, state-of-the-art bathroom.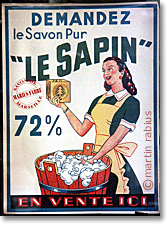 2. FRENCH STUFF
Things you associate with life à la française -
Marseilles soap?
Boxes or tins with French writing?
Framed pictures of your favorite region of France?
Flea market finds?
French country bathroom decor is all about bringing "Frenchness" to life for you.

3. SOMETHING OLD, OR OLD-FASHIONED
Mixing antiques into a current decorating style can work beautifully, and French country bathrooms are the perfect place to try it.
Consider adding some of these antique 'bathroom' paraphernalia:
a ceramic soap dish
a beautiful antique mirror
an old eau de toilette bottle
French (kitchen) containers to stash bathroom things away in
a straw bag from Provence to hold the extra toilet paper ;-)
Where To Buy Country French Bathroom Vanities
You don't need to have original French antiques to create a unique, stylish "French" country bathroom. Just make sure that what you're using is not conspicuously American, African, or Asian ;-)  ... Most old  pieces will fit the bill.
For contemporary French country bathrooms like the ones on this page:
Look for a competent, creative builder. They should find it very easy to replicate any of the above bathroom design ideas to your specifications.
For antique(-looking) country French bathroom vanities, or a mix of old and new elements, try
garage and yard sales,
flea markets,
estate sales,
antiques dealers,
antiques auctions, or
reproduction furniture companies
Or, get lucky and find your perfect piece among the country French bathroom vanities on ebay:
Yet to find the information you're looking for?
Type a word or phrase into the search box below: