French Country Interior Decorating:
5 Creative Design Ideas
"French country interior decorating ideas to copy, play with & personalize!"
On this page:
♦  French country Bedroom tips
♦  French country Bathroom ideas
♦  Country french decorating in the Living Room
♦  French style ideas for your Walls (I)
♦  Country french Wall Decor (II)  (The wacky version!)

French Country Interior Decorating, #1
Bedroom Ideas
Many people think a country French bedroom must be a high-maintenance affair with bed crown, bed curtain and antique(-looking) boutis coverlets with scalloped edges. But check out this French provincial bedroom ...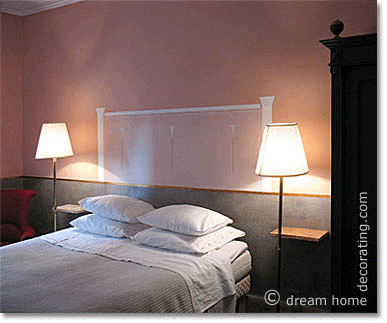 ... in an old farmhouse, deep in the Provence countryside. (We took a flashlight to find the way to the restaurant down the road. No kidding.)


There's no antique quilt, not even a real headboard - just paint on the wall!
So don't worry if you're decorating a French country bedroom and can't get a "French" headboard.
Just paint one. And don't worry about an armoire, either.
(There's another example of this type of French country interior decorating on the Bedroom Decorating Colors page, plus many more in the Country French Bedroom article).


I do think a simple quilt (or a matelassé blanket) would make a very good investment for French country interior decorating. Go for ...
white, or
natural unbleached linen, or
any other solid color (gray, taupe, light blue, sage green, soft pink, deep burgundy...)
You also need pure white or antique-white bed linen. And, of course, a good French Country Color Scheme for the walls.
If you can get your hands on vintage French country fabric or bedding with embroidered initials, that's a bonus.
If it's not vintage, here are some ways to get the look (if you're not into needlework, maybe you know someone who is):
Cross-stitch your initials into the cover sheet, in red or white.
Trace your initials onto the sheet with a pencil, then follow the line with running stitch or stemstitch in white.
Make or buy a stencil and paint your initials on with fabric paint, preferably in red.
Buy a snippet of embroidered linen or lace (any nice little ornament will do), and appliqué it to a visible part of your bedlinen (make it look like a coat of arms).
For additional French country interior decorating elements ...
add a quirky bedside lamp.
hang pictures that express what French country living is to you (landscape paintings, photos, old post cards). Make sure you can see your favorite images when you wake up in the morning.
hang a simple chandelier - even if it's not genuinely French, or doesn't actually function as a light source, it will be a lovely piece of 'jewelry' for your room.
French Country Interior Decorating, #2
Bathroom Ideas

If you have a white modern bathroom, that's good news: It means you can add French country bathroom accessories without any color limitations.
Here are a few ideas:
Get a skinny white shower curtain, then double its thickness and luxurious feel by mounting a same-size length of quality fabric to the outside of the shower curtain & suspending it from the same loops (use heavy linen if you can, toile if you must ;-) Alternatively, buy  a Toile shower curtain!
If you can buy Marseille soap where you live, that would be a very 'French country' thing to have in your bathroom as well.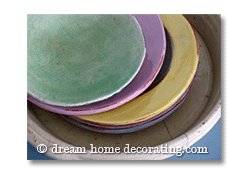 The XXL size cubes (see above) are made from olive oil and other all-natural ingredients. They're not very practical when you're just starting a new one (mine is 3x3x3", a tad chunky), but Marseille soap is a nice French country decorating idea for the bathroom.
Another thing you could do to 'countrify' your bathroom at minimal expense, is to add a few smallish earthenware bowls (or genuine faïence bowls - they're similar to Tuscan Dinnerware).
They look very attractive and will hold soap (from Marseille or elsewhere), jewelry, sponges, toiletries, whatever needs a home in your 'French country' bathroom.
For many more french country interior decorating tips, check out the page about French Country Bathroom Ideas.
French Country Interior Decorating, #3
Living Room Ideas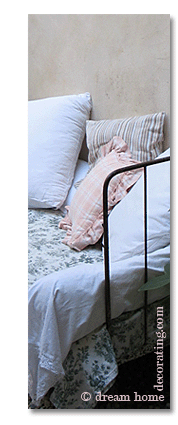 An elegant, luxuriously furnished living room is about as rare in traditional, rustic French country interior decorating as a dining room is, unless you're a rich landowner with a mansion, or someone from the city with a large summer residence in the country.
So if you want to
give your living room a 'country French' makeover
...
stick to simple slipcovers for sofas and chairs: use coarse linens or cotton duck in neutrals or in mellow (solid) colors.
Accessorize with cushions and quilts, and keep those simple as well. Go for solid colors or striped/checked cottons, and stir the occasional piece of toile de jouy into the mix.
In the picture to the right, the toile that covers the mattress of the wrought-iron daybed looks a bit washed out and antiqued - a perfect look if you're creating a Provence-style living-room.
It's easy to overdo toile, though, because many people think it's "the" French fabric. But there's so much more to French country interior decorating than toile de jouy!
For example, check out the page about French Country Curtains for some 'toile-free' (ahem!) ideas.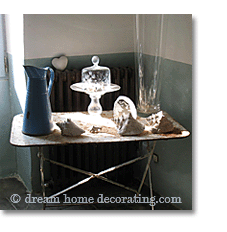 Also, have a look at this rusty little garden table here, covered in an eclectic collection of chunky seashells, rustic enamelware, elegant antique crystal and an oversized modern glass vase.
It's a mad mix and it shouldn't really work, but it does!
You can achieve the same effect by balancing items that are a bit rough around the edges (like an old, battered table or picture frame) with a few, carefully chosen "fine" pieces: a faïence plate or bowl, an antique mirror or vase, or a small, beautiful drawing.
French Country Interior Decorating, #4
Wall Art Ideas I
There are many ways to "do" French wall art.
For a traditional look, any of the following techniques will work: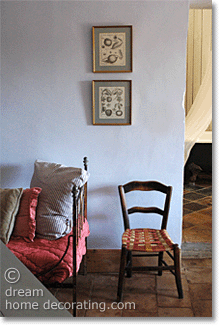 etchings
old photographs
lithographs
watercolors
oil paintings
drawings
prints of any of the above.
As for themes, you could look for:
landscapes
still life
portraits (of people or animals)
botanical drawings
scenes of country life
architectural sketches.


Do not hesitate to frame worn and damaged pieces, even fragments. They go very well with a 'shabby' French country interior decorating style, but they also work with a contemporary, eclectic or slightly edgy approach.
What kinds of frames should you use? Anything gilded, slightly distressed, black or dark brown will look great. French country interior decorating works especially well when you mix ornate and simple frames in groups of pictures.
For more ideas, here's a page entirely dedicated to French Wall Art.
French Country Interior Decorating, #5
Wall Art Ideas II
This section is about the 'other', tongue-in-cheek side of French country interior decorating. It's great fun. Because anything, as long as it's flat enough, can be framed and hung on the wall or stood on a mantel/table/shelf!
So go ahead and frame/hang
mementoes of past French holidays
cover jackets of French novels
French recipes
French wine labels
French post cards
French (restaurant) menus
French postage stamps (with large mats around them, and possibly even big, fancy frames)
clippings from French magazines (stick to one subject or color family) ...
... anything français you can possibly think of!
Another fun thing I've seen done in the South of France is small plates hung above pictures or mirrors, as an additional piece of eye candy. This can look particularly gorgeous if the picture or mirror is not very ornate. A small colored & glazed bowl or plate will lift the arrangement to a whole different level. (Again, for more information and ideas, go to French Wall Art).
Yet to find the information you're looking for?
Type a word or phrase into the search box below: