Home

›
Bedroom Colors
› Green
Green Bedroom Color Ideas & Photos
Green bedroom color schemes are full of possibility - nature provides endless, gorgeous variations of the color green that you can mix or combine. (Check out the page about shades of green color for additional bedroom color ideas!)
Green Bedroom Color Ideas #1:
Analogous Green Color Schemes


Lime green bedroom with teal, sapphire & pale blue.  Photos © vtwonen.nl via C. Lavalle

This gorgeous bedroom color idea mixes green with its neighbors either side on the color wheel chart: yellow and blue. The result looks so convincing because the tones vary from very light and grayed to deep and dark. (Several more green analogous bedroom color schemes below!)
When you're (re-)decorating, hold off on the bedroom wall colors as long as you can.

There's always a bigger choice of paints than of fabrics, carpets & furniture.
Below are two blue-green analogous bedroom color ideas with a cool Dutch flair; one light (aqua, seaglass, turquoise & sage), one dark (olive green & deep indigo). In both rooms, neutrals were added for a 'clean' look and feel.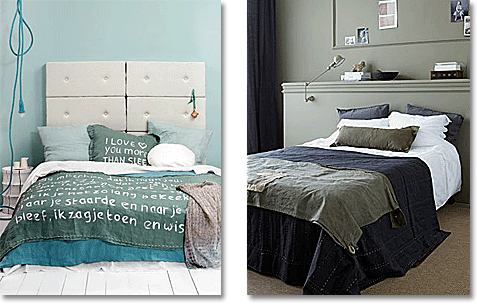 Left:  Seaglass, turquoise & sage bedroom color scheme, © Anna de Leeuw, vtwonen.nl
Right:  Olive, deep indigo & white bedroom color palette, © Paul Grootes, vtwonen.nl

Blue/green color combinations are perfect for a calm, relaxing, private sanctuary. So if you're looking to create a space where you can dream and recharge your batteries, these may be your colors!

If the above bedrooms are too  calm and understated for your taste, you could add warmth and 'zing' with a splash of yellow. Desaturated and greenish yellows (including chartreuse  and mustard) are great for creating individualistic bedrooms with a retro feel: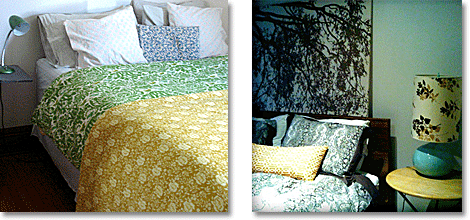 Bedroom color ideas in mustard, teal & green. © left: Abbey Hendrickson, right: Olga Massov

After these fairly muted colors for the bedroom, here's an unashamedly bright & happy color combination based on warm citrus hues. The green wall paint color - somewhere between lime and avocado - is complemented by citrus hues, plus red and blue accents (for good measure :-)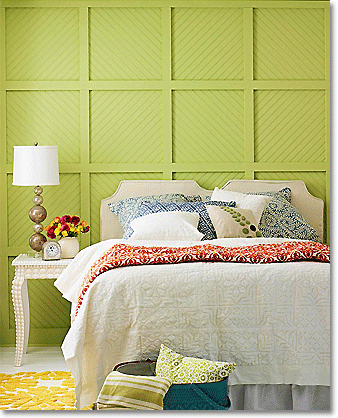 Avocado/lime bedroom with accents in lemon, pale olive,
bright vermilion and cobalt blue. © BHG

More bedroom color ideas in blue & green on these pages:
Green Bedroom Color Ideas #2:
Complementary Color Schemes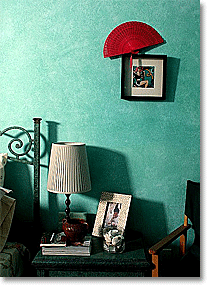 Bedroom in complementary red-green:
Jade green with crimson accent.
© Sophia

Compared to the analogous green color palettes above, red-green complementary color schemes are from a (very) different planet!
Green + red = gorgeous, flamboyant, striking. It takes very  little red to spruce up a bedroom dominated by green hues (as the photos left & below show).
Red and green are complementaries both on the 3-primary and the 4-primary color wheel charts.
Most greens look great with most reds: they enhance each other's brilliance and look more intense next to each other than either color does on its own: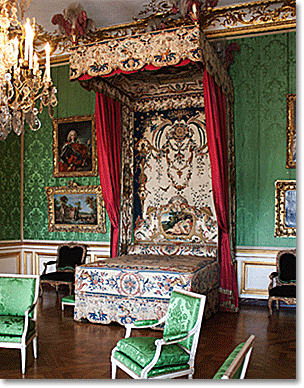 Bedroom in complementary red & green,
Versailles castle (near Paris), France:
Emerald green with scarlet accent. © James Shin

♦   celadon & rose;
♦   sage & pomegranate;
♦   verdigris & cerise;
♦   turquoise & ruby;
♦   fennel & cherry;
♦   pine & coral;
♦   lime green & fuchsia;
♦   spruce & tomato.

For some good examples of red-green complementary color schemes, check out ...

How much red should you use in a green bedroom? It depends entirely on the effect you want to achieve.
As the photo below (left) shows, even a few small specks of red - in this case a few dried flowers - inject energy and vibrancy into a dark, dreamy, magical 'woodland' atmosphere: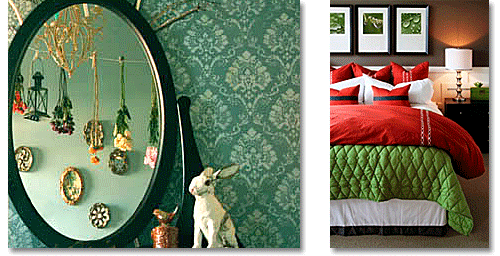 Complementary green & red bedroom color schemes. © Lauren Treece (left); Weidner (right).

On the other hand, it's very easy to go overboard with red - the room above right  being a case in point :-)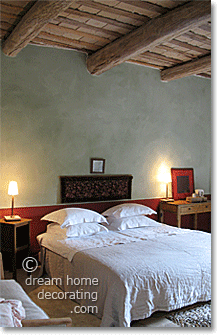 Complementary green & red
bedroom in Provence (France)

Most saturate reds are so energetic and in-your-face that they can easily overpower your living/sleeping space if you're not careful. (Check out the red bedrooms on this site to see what I mean!)

To the left is a bedroom in red & green where the green wall color hovers between palest jade and aqua, and the red is darkened and desaturated by adding black - a great recipe for making the color scheme look more muted and natural.

Next, my fave on this page: green & red, "meeting" in blue. Not sure if this still qualifies as a green bedroom - or  a complementary color scheme for that matter - but I think it's close enough to make an appearance on this page. It's a luxuriant mix of greenish blues, bluish greens, a few pale orange accents and deep, sumptuous pomegranate and bordeaux reds. Utterly, utterly gorgeous.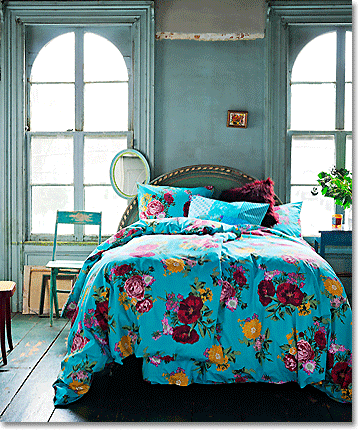 Almost a green bedroom:
Seaglass, turquoise, deep purplish reds and pale orange. © sköna hem.
Green Bedroom Color Ideas #3:
Green & Neutrals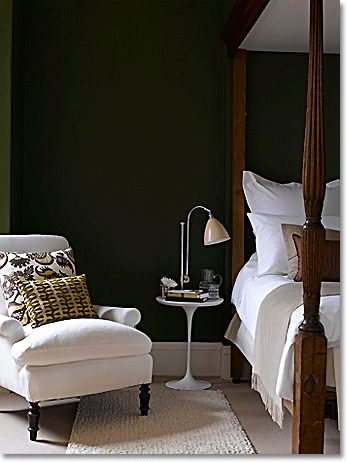 Dark green bedroom walls with neutrals. © Little Greene

One simple way of using green bedroom paint colors successfully is to go very light or very dark. Dark green bedroom walls, for example, are so unobtrusive and neutral in appearance that the color functions as a 'soft black' - with all of the elegance and none of the austerity of real  black.
Another option is to choose green tints like mint, verdigris, pistachio or pale jade: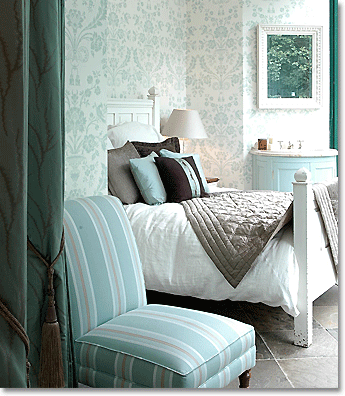 Mint green bedroom color palette with white & silver. © Chalon UK

For an exquisite Old-World look, consider mixing green, cream and gold. The following bedroom was created with luxury in mind!  Rich 'golden-green' colors for the bedroom look best when the fabrics and/or wall coverings have a soft silky sheen. You can deepen the effect by using plenty of giltwood detail (e.g. picture frames) ... or even a gilded wall!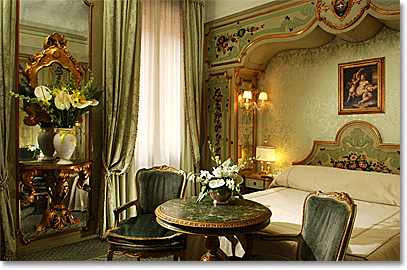 Venetian bedroom in green & gold. © Gritti Palace

Finally, here are two very successful contemporary bedroom examples of using green as a bedroom accent color in combination with neutrals and splashes of yellow or red: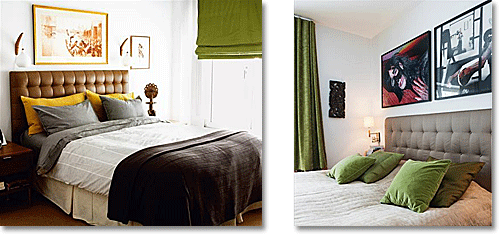 Desaturated green accemts for neutral bedroom color schemes.
© Paul Brissman, sköna hem (left);  Åke E:son Lindman sköna hem (right).
For More Green Bedroom Color Ideas,
Click A Pic:
Mini Bookshops (In Partnership With Amazon)
a) Bedroom Inspiration:
b) Color In Interior Design:
c) Color Wheel Charts:
Yet to find the information you're looking for?
Type a word or phrase into the search box below: