Home

›
Bedroom Colors
› Pink
Pink Bedrooms In Europe:
Sweet, Cool & Elegant Bedroom Color Ideas
Pink bedrooms come in many gorgeous styles and color combinations, from cool and fresh to utterly romantic.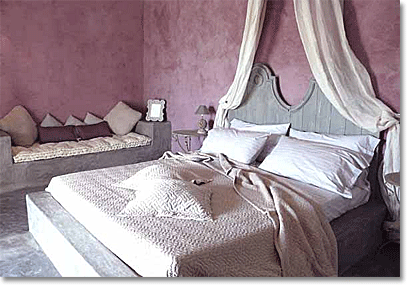 Romantic pink, white & gray bedroom in Sardinia (Italy).  © côté maison

The color pink is a pastel, a tint of red. Because pink is much less saturate than red, the psychological effects of pink bedrooms are quite different, too.
When you're (re-)decorating, hold off on the bedroom wall colors as long as you can.

There's always a bigger choice of paints than of fabrics, carpets & furniture.

Romantic Pink Bedrooms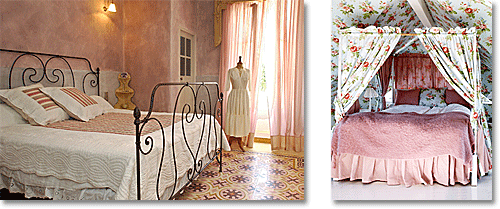 Left:  romantic pink bedroom color ideas from Provence, France (© côté maison)
Right:  pink princess bedroom under the eaves, Sweden (© sköna hem)

A romantic pink 'princess' bedroom can look all grown up and still feel like heaven!   Key style elements:
♦   a wrought-iron bed or metal canopy bed.
♦   pink walls ('rustic' pink colorwashes are great - they look more natural than most pink wall paints straight from the tin).
♦   a simple white quilted coverlet (here are some French-style examples!)
♦   flower prints or embroidery, plus a bit of white lace (vintage if possible). And speaking of flowers: Check out the painted flower headboard idea on the page about bedroom color schemes!
Contemporary Pink(ish) Bedrooms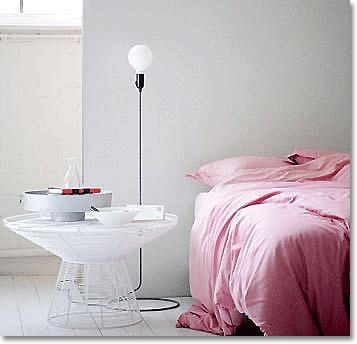 Contemporary pink bedroom idea from Holland: pure white walls, floor & ceiling.
Just add pink bedlinen.  (© Jeroen van der Spek for vt wonen)

If you're not sure whether to commit to pink wall  colors, here's another option: as long as you keep the walls, flooring, furniture and window treatments white, it only takes a pink bedding set to create a pink-themed bedroom. The color gives the bed a beautifully sculptural look, too!

For contemporary pink in bedroom decorating, a simple platform bed is more than enough. Headboard is optional. If you feel you'd like one, try painting it on the wall  (by the way, check out the bedroom wall color variations I created for this very room below!)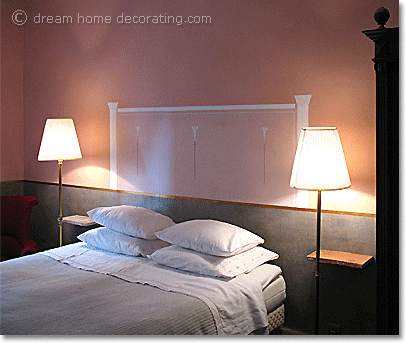 Contemporary bedroom idea from Southern France: Painted headboard.
Elegant Bedrooms In Pink
A mix of plum, rose and pale pink works beautifully with aged wood tones - as long as the wood doesn't come with an 'orangey' stain. This fine French bedroom plays off an 'antique' look against modern color-blocked wall panels, with great results: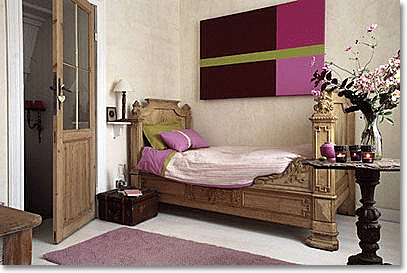 Pink/purple color palette with antique carved wood, France.
© Patrick Van Robayes for côté maison

Pink opulence in Venice - mixed with crisp white, touched up with loads of gold, this lavish pink-and-rose bedroom still manages to keep the 'frill factor' down through the use of restrained, contemporary bedding: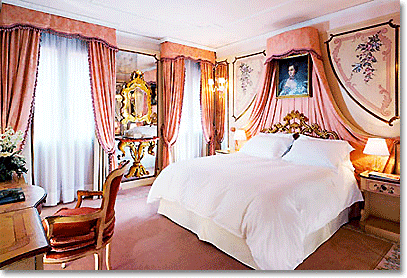 Elegant pink & gold bedroom color ideas from Venice, Italy (© Gritti Palace)
Pink Bedrooms - Warm Or Cool?
Just like red, the color pink exists in warm and cool versions:
Warm pink paint colors have a yellow/orange bias.
Cool pinks come with a bluish-purple cast.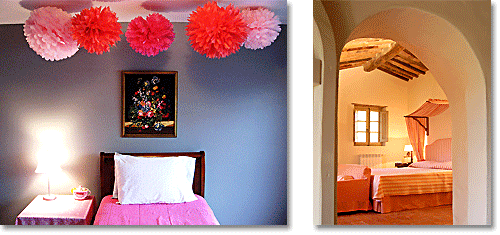 Bedroom color ideas with cool pink (left; © Emily Meeks)
Warm pink colors for the bedroom (right; © K. Allès-Trauttmansdorff)

For a soft, welcoming glow on your bedroom walls, pick a warm, peachy, 'Mediterranean' pink (with some terra cotta or burnt orange in it ... think salmon pink with a wash of light grey over the top.)  If you're adding white to the color palette, go for creamy  off-whites rather than a crisp, clean white: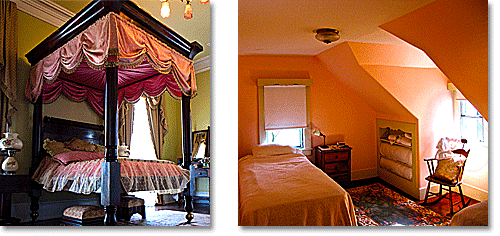 Bedroom color ideas in warm pink. © Alan Teo (left); madabandon (right).

Cool pinks, on the other hand, work much better with a clean, unadulterated, bright white: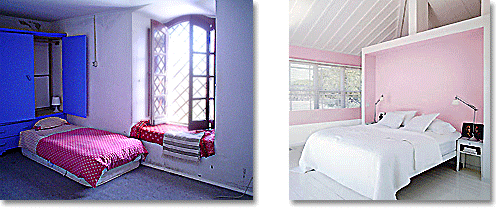 Bedroom color ideas in cool pink. © Catarina Mota (left), Cassandra Lavalle (right)
Pink Accents & Color Combinations
Orange combines well with pink, both with 'hot' pink/fuchsia and with pale, cool pink (several pink-orange examples here and here!) If you want an exotic, stimulating, sun-invoking bedroom, pink/orange is your palette! (We're leaving Europe here for a moment :-)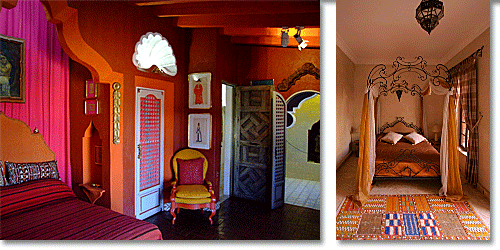 Orange & pink bedroom color ideas from Cuernavaca, Mexico (left) © Sam Kelly
and from Marrakech, Morocco (right) © Martin Allen

For a gentler, calmer bedroom palette, look no further than the red-green story. It works at any level of saturation and tonality, from the palest pastels to the deepest greens and reds. Here are a few bedroom color ideas in red-green pastels: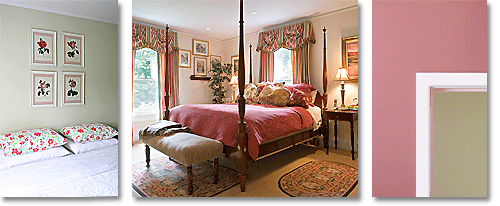 Bedroom color ideas in red/green tints.
© Yvonne Eijkenduijn (left), Sonja Lovas (center), jbhalper (right)


Westerners tend to find pink feminine - except for the French, who don't - but there is no evidence that pink bedding or pink walls must be 'girly'. Check out my page of pink color schemes that even men can enjoy ... or at least live with!
More Color & Paint Ideas For Pink Bedrooms
(Click A Pic):
Mini Bookshops (In Partnership With Amazon)
a) Bedroom Inspiration:
b) Color In Interior Design:
c) Color Wheel Charts:
Yet to find the information you're looking for?
Type a word or phrase into the search box below: