Matelassé Bedspreads
And Matelassé Coverlet Sets
Matelassé Bedspreads and cotton matelassé bed linens are staples of and
Matelassé 'quilts' are woven fabrics; their quilted look and raised pattern is produced on Jacquard looms.
Matelassé bed linens, especially bed coverlets, are widely used in traditional and contemporary bedrooms all around the Mediterranean.
Antique matelassé coverlets are mostly white or ivory-colored: it's the perfect color to bring out the 'quilted' relief pattern in the fabric, and it can turn matelassé bedspreads into works of art. [Read More]
---
(Clicking "Next" will give you more product choices - or the same kind of products but in different sizes.)
For more choice, check out these offers from Amazon.com:

The Origins Of Matelassé Bedspreads
"Matelas" is French and means 'mattress'. "Matelassé" [matla'say] means 'stuffed' or 'padded'.
The term refers to a textile technique that was first developed in Italy around the 13th century, called 'trapunto': Two layers of fabric were stitched together in elegant, intricate patterns ('flat quilting'), and then parts of the pattern were raised by padding them out from underneath. The stuffing material was inserted through a small incision in the backing fabric. (It must have taken a girl months to complete a piece for her trousseau!)
Similar padding and quilting techiques were later developed in Provence in the South of France: the boutis coverlets are the most well-known exponents of stuffed quilting in Southern France today.
And because boutis are a lot of work, too, it's really nice that in 1801, Joseph-Marie Jacquard decided to invent the Jacquard loom. Textiles with complex raised patterns can now be machine woven, so we can have our matelassé 'quilts' without sacrificing so much time (unless we choose to).
Quality Of Matelassé Bedspreads
Good cotton matelasse fabric has a similar quality to the original stuffed quilts: it is heavy, richly textured, and relatively stiff. It is well equipped to resist wear and (Heaven forbid!) tear.
Medium weight cotton matelassé fabric can be used for throws, wrapped around a daybed mattress, or turned into matelassé slipcovers or even drapes.
However, if you're going to cover Grandma's feather bed with a matelassé bedspread, you're likely better served with a heavy, rich, thick weave that evens out any 'dimples' in the bedding underneath.
Many matelassé fabrics, even the 100% cotton ones, are dry clean only. The (machine) washable ones may shrink to some extent - a good thing to keep in mind when you take measure of your bed. Polyester/cotton blends are quite sturdy and less prone to shrinking, but the polyester will bring down the allowable washing temperatures.
How To Decorate With Cotton Matelassé Fabric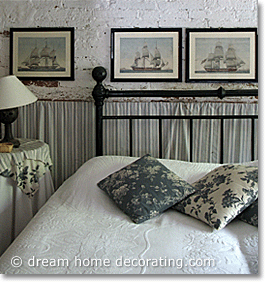 One option is to buy entire matelassé coverlet sets, complete with pillow shams, accent pillows, bedskirt - the whole nine yards of a co-ordinated look.
The picture left shows the 'European' (and less co-ordinated) look of a nautical-themed Tuscan bedroom:
The antique matelassé coverlet is combined with vintage prints on the wall and modern fabrics in florals, stripes and solid colors, all of them variations of a navy, cream & white theme.
The floral cushion fabrics are unrelated to the matelassé 'quilt' pattern, and the ruffled curtain along the wall contributes a geometric element, yet the mix works beautifully because the color scheme is so well put together.
Of course, antique ivory/white matelassé bedspreads aren't the only kind used in Tuscany. For matelassé bedspreads and quilts in full color, please have a look at the page on Tuscan Bedding.


Yet to find the information you're looking for?
Type a word or phrase into the search box below: