Home

›
Tuscan Interiors
› Tuscan Armoire
Tuscan Armoire:
Essential Armoire Designs For A Tuscany Look
A Tuscan armoire is an indispensable element of Tuscan style decor:  It has its place in
bedrooms,
living rooms,
dining rooms
and kitchens.
While a mirrored armoire is great for a Tuscan style bedroom ...
... there are many suitable armoire designs to give your home a welcoming Tuscany look.
Check out the armoires guide below for authentic Tuscan decorating ideas!
---
Tuscan Armoire Designs I:
Villas & Farm Houses
Tuscan style furniture usually comes with a touch of elegance and class, even in a farmhouse or a small country villa.  I photographed these armoire designs in an old farmhouse near San Gimignano: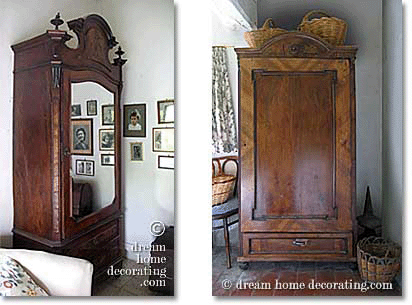 Most of the armoires I've seen in Tuscany were made of dark-stained, varnished wood; they had aged gracefully but not to the degree of being genuinely 'shabby chic' armoires.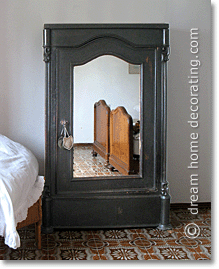 Many Tuscan bedrooms contain a mirrored armoire - for a suitably elegant look, make sure it's a beveled mirror.
The armoire closet to the left was painted a dark gray, with layers of reddish paint underneath. (It's one of the few distressed pieces I've come across in Tuscan interiors.)


As you can see from the examples so far, you don't really need ornate armoire designs for an authentic Tuscany look. A simple, classic piece, like the mirrored armoire below left, would be deemed perfect for all but the grandest of Tuscan interiors.


For modern Tuscan interiors, check out the armoire closet below right (it stands in a private townhouse in San Gimignano): Good proportions and a pared-down look is all you need.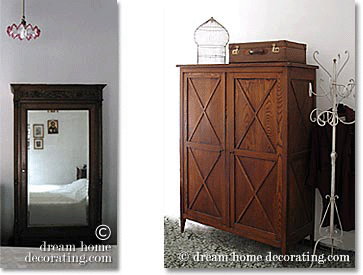 Any of the armoire and wardrobes listed above will give your home an authentic Tuscany look - go for a simple, classic armoire if you're decorating a modern room, or choose a mirrored armoire for the bedroom (I've found mirror armoires in short supply, but will keep adding them to the list as they become available.)
Tuscan Armoire Designs II:
Palazzo Style
The only place I found a painted Tuscan armoire was in a palazzo.
You'll recognize the simple, unadorned shapes from the armoire designs above; the only thing that's different here is the color!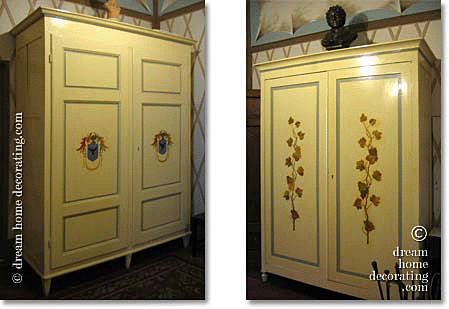 So if you prefer painted wood to a natural or stained surface, a hand painted armoire in vanilla tones (or an antique-white armoire) would be perfectly appropriate for Tuscan interiors.
The armoires pictured here are embellished with coats of arms (left) and grapevine shoots (right) - come to think of it, you could easily create your own Tuscan style armoire with a paintbrush and a few cans of paint!
Yet to find the information you're looking for?
Type a word or phrase into the search box below: