Tuscan Beds:
Tuscan Design Beds For Your
Tuscan Style Bedroom
Tuscan beds come in a range of gorgeous styles, from rustic black metal beds to the most elegant Tuscany canopy bed.  This page has a mix of Tuscan design beds, as well as styling tips & inspiration for Tuscan master bedrooms - choose the design (and bedding) that brings out the best in your Tuscan style bedroom. [Read More]
Bedroom, Tuscan Style I:
Rustic Villas & Farm Houses
A traditional Tuscan style bedroom in a podere (small farmhouse) is stylish yet simple:

The bed and jacquard coverlet - black and white - are the stars of the show. Tuscan design beds with their 'cannonball' finials and (sometimes) artful scrollwork don't need any additional detail to look great.
Here's a rustic bedroom in Tuscany, equipped with the simplest of Tuscan style beds, sans embellishments: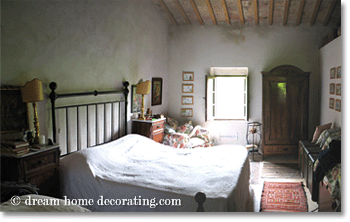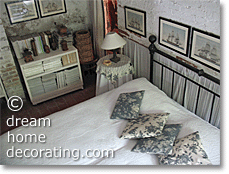 Do you like it?  Or is the look too austere for your taste?
To the left is an 'ornate' version.
In a rustic bedroom Tuscan style, this is about as lavish as it gets! You'd be hard pressed to find stacks and stacks of sham pillows and accent pillows on beds in Tuscan farmhouse interiors.
Tuscan design beds and bedrooms do go with the times, though, and it's not always black iron beds and white bed spreads.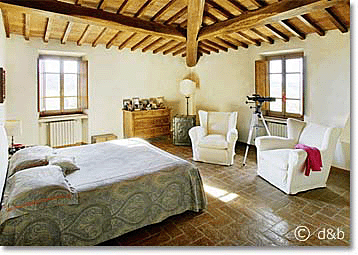 Here's a contemporary bedroom in a Tuscan country villa, with a colored bedspread and an upholstered semi-circular headboard.
You'll also find white metal beds, as well as wooden bedsteads (some with carved detail) in Tuscan style bedroom decor.
Below are two pictures of bedrooms in Tuscany with modern(ish) - but still rustic - decor. The white metal bed stands in a San Gimignano townhouse, and the wooden bedstead is from a small farm house near Pomarance: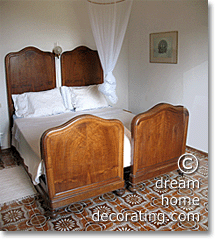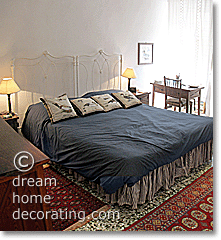 For additional information and ideas, have a look at the page about modern, rustic Tuscan style bedroom design, or check out a choice of contemporary Tuscany style bedding.
Bedroom, Tuscan Style II:
Palazzo Style
So, how is Tuscan bedroom design different in a palazzo?  In other words, how do you display an abundance of wealth (and good taste) in your Tuscan style bedroom?   Simple. You ...
make the bed bigger
add elaborate detail to the headboard
gild some of it
top it with a canopy
use high-end, elegant (& shiny) fabrics all over it.
Check out these pictures of Tuscan palazzo bedrooms: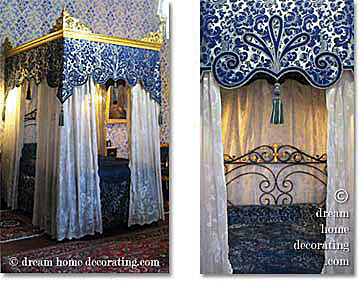 Here, the glitz factor was introduced through a gilt tester and brocade / damask for the bedspread and the pelmet; a lighter, more transparent fabric was chosen for the bed curtains. (It's chambray with appliqué embroidery; lace would be another obvious choice.)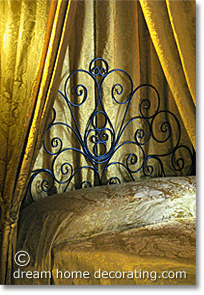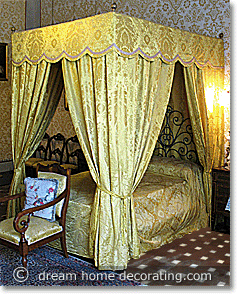 Above is a more traditional Tuscany canopy bed that uses the same fabric for pelmet, curtains, and bedspread. (Note how the flooring is plain terracotta, but with little square marble tiles added for effect).

Now, the one thing I haven't got photos of is Tuscan beds with ornately carved, wooden headboards.

However, they are used for bedroom decor in Tuscany, so I've included a few in the 'shop' above to give you more choice. (By the way, don't get distracted by product names that don't sound Tuscan - the shapes and designs of these beds would all look perfectly at home in a Tuscan style bedroom.)

Lastly, canopy beds are an increasingly popular choice for bedroom decorating in Tuscany. A Tuscany canopy bed can be used even in humble and rustic Tuscan style bedroom design.  It will look very graceful in various states of (un)dress:
dressed up with elegant Tuscan fabrics, or
dressed down with cheesecloth or unbleached linen, or

So that's your choice of Tuscan beds and bedroom design. I hope you'll find the perfect design solution for your Tuscan (master) bedroom!
Complementing Tuscan beds with white Matelassé Bed Linens is the perfect choice for a traditional-looking Tuscan style bedroom.
For a more luxurious bedroom look, cover your Tuscan design beds with colorful Tuscan Style Bedding!
Click these links for a larger choice of Tuscan style beds, e.g. a Black Metal Bed, a White Metal Bed, or a Canopy Iron Bed!
Create an even more authentic Tuscany look by adding a Tuscan Armoire to your bedroom!
For pictures of Tuscan style bedrooms and Tuscan beds, check out the pages on
And ... have a look at this Tuscan Decor overview!
Neutral Color Schemes - The Book:
Learn about using neutral color palettes with Tuscan beds (and everywhere else in the house, too!)   Understand what makes neutral color schemes look their best, and what happens when you inject 'real' color into neutral color palettes.   It's FREE!!
Yet to find the information you're looking for?
Type a word or phrase into the search box below: