Home

›
Tuscan Interiors
› Tuscan Bedding
Home

›
Bedroom Design
› Tuscan Bedding
Tuscan Bedding:
The Right Tuscany Bedding For Your Home
Tuscan bedding can give your bedroom an authentic 'Italian country' look.  Below is a hand-picked selection of Tuscany bedding and matelassé bed linens for a Tuscan style bedroom.
For a traditional Tuscan farmhouse look, complete with black wrought-iron beds, you're best off with a white-on-white look: white bed linen, topped with white (or cream) Matelassé Bedspreads.
Palazzo-inspired Tuscany home decor - and Tuscan villa style - is usually more colorful.  [Read More about authentic Tuscan style bedding]
(Clicking "Next" will give you more choices from the above merchants' product feeds. Because these feeds are automatic, some bedspreads and duvet covers without a convincing Tuscany look will sneak in. Check below for more information on how to choose authentic-looking Tuscan style bedding!)

Tuscan Bedding Essentials

1. White Bed Linen
No matter what type of Tuscan-style beds (and which color bedspread) you're going to use, Tuscan sheets are traditionally a classic and sophisticated white.

Plain sheet sets are perfect for Tuscany decorating, and any thread count upwards of 300 will add a luxurious feel to your nights.
Antique lace pillow shams and/or accent pillows always make a great addition to Tuscan design beds, but they're not a must. (And they don't need to match, by the way!)

The simplicity of a traditional Rustic Tuscan Style Bedroom calls for white Matelassé Bedspreads, but if you want a rich, luxurious Tuscany look, go for ...

2. Colored Bedspreads
a) Palazzo-Style Tuscan Bedding
Here are two photos from Tuscan palazzo bedrooms: as you can see, the elegant wrought iron beds are covered with jewel-colored brocade spreads: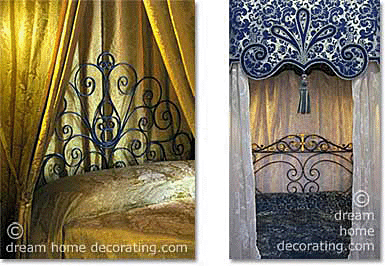 For a truly opulent Tuscan style bedroom, choose tonal damask and brocade weaves: it's the kind of bedding that works best for grander Tuscan style homes. A silky/sateen finish is de rigueur; chenille or matte cotton weaves may not look polished enough for elegant Tuscany style bedding.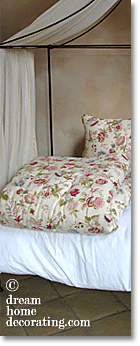 b) Contemporary Tuscan-Style Bedding
Between the elegance of a palazzo and the rustic simplicity of a podere (small farm) there's a third option: urban Tuscan-design bedrooms. With these, you would use lightweight quilts in
solid colors,
florals, or
subtle and stylized patterns
(these could be printed, woven or embroidered).
An antique feel is fine (e.g. florals on an antique-ivory ground), but don't go for a 'shabby' look. I've never seen it in Italy - I don't think the Italians are genetically capable of producing 'shabby' interiors. Whatever they do somehow manages to look sophisticated and fashionable :-)
Generally, avoid going heavy on pattern: solid colors or understated, restrained, stylized patterning is perfect for Tuscan bedding.


c) Colors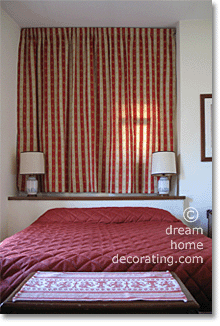 Choose neutral, warm colors for Tuscan style bedspreads in solids and tonal patterns:
caramel,
gold,
brown,
cream,
terracotta.
Or, go for deep jewel colors:
garnet red,
ruby red,
sapphire blue,
lapis lazuli blue,
amber.
For 'pale and interesting' Tuscan style bedding, opt for any of these colors:
aquamarine blue,
greenish or bluish gray,
rosewood,
jade green.


If you're decorating a rural, rustic Tuscan style bedroom, check out Matelassé Bed Linens - Tuscany bedding ingredient numero uno.
Complete your Tuscan themed bedroom with Mediterranean-style Black Metal Beds or White Metal Beds, an elegant Tuscan Bed or a Canopy Iron Bed!
For additional Tuscan bedding inspiration, check out the pages on ...
collection of Tuscan Armoire designs (a great addition to any Tuscan style bedroom), and
the Tuscan Decor overview.
Neutral Color Schemes - The Book:
Learn about using neutral color palettes in your Tuscan style bedroom (and everywhere else in the house, too!)   Understand what makes neutral color schemes look their best, and what happens when you inject 'real' color into neutral color palettes.   It's FREE!!
Yet to find the information you're looking for?
Type a word or phrase into the search box below: