French Country Bed:
Centerpiece Of French Bedroom Design
A French country bed that's perfect for your country French bedroom is easy to find:  Decorating a French country bedroom offers choices galore.
French iron beds (in white or black),
French bateau and sleigh beds,
Louis Philippe inspired French bedsteads, and
Antique Rococo (Louis XV) style beds, like corbeille & capitone beds.
For more country French bedroom design ideas and inspiration, read on below!
Found what you're looking for?  If not, do check out the country French bedroom and French provencial furniture listings on eBay as well (US listings only) - you'll find antique country French beds, including white provincial bedroom furniture and corbeille bedsteads.
Country French Bedroom Design Options
French bedroom design is creative and incredibly chic.  It's usually done in a style mix of
antique and new,
fine and rough,
art and nature.
To see what I mean about the style mix, have a look at the pages on
French Country Bed - Which Style?
There are no fixed style rules for Country French bedroom design - except that it should be warm, relaxed and inviting.
So your French country bed is completely up to your personal taste!
You don't need any particular style of antique French bed frames, or a French provençal bed, or a Louis XV headboard.
You could even create a French look with nothing but a headless, footless platform bed!

All you need is ...
The right fabrics - have a look at
For that extra bit of French flair, add something - anything - that has "French" written all over it. For example:

A French bed crown with elegant fabric panels that surround your bed head.
Pictures (from a book, or post cards) of old French prints: etchings, illustrations, architectural blueprints - or old photos of villages, châteaux, and iconic French city/landscapes.
A French antique(-looking) piece, e.g. a chest/chest of drawers/chair/sofa/ornate mirror/armoire.
Faïence, porcelain or earthenware plates (on the wall) or jugs/bowls (on a side table).
For more ideas, check out the examples of French country bed & bedroom design
How Elegant Should A French Country Bed Be?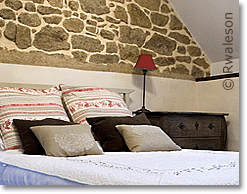 As elegant as you want. No shabby chic required - go for fine polished woods or intricate iron scrollwork if that's what you like best!
Since the most successful French country decorating ideas are mixes of old and contemporary elements, you may want to combine a fine, new French country bed with an antique coverlet or a Matelassé Bedspread, while you would spruce up a distressed, painted bed with pristine white lace pillow shams.
Here are the finest options for a French country bed:

a) Louis XV, Louis XVI, and Louis Philippe Beds
While Louis XV's reign ((1715-1774) saw the rise - and fall - of the playful, ornamental Rococo style, his successor Louis XVI (1774-1792) embraced the restrained proportions and straight lines of Neoclassicism - a style that evolved in the wake of the (re-)discovery and excavation of the ancient cities of Pompeii and Herculaneum (near Naples, Italy).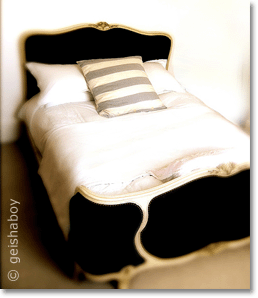 Louis XV-style demi-corbeille bed
The antique ruins allowed a rare glimpse into the life of real Romans, preserved under several yards of volcanic ash after the fateful eruption of Mount Vesuvius in 79 AD.
It was a discovery that sparked a bit of a craze for all things classically Italian, and classical lines informed much of French furniture after 1800.
During the reign of the last French king, Louis Philippe (1830-1848), French bedroom design had a straight, simple and elegant look, with rounded edges and dark polished wood.
The period between 1830 and 1870 saw a short Rococo revival - and many of the antique "Louis XV" beds on the market today were actually made in the late 1800s (or even the early 1900s), rather than during Louis XV's reign.

b) Bateau & Sleigh Beds
The oldest lit bateau  ("boat bed") dates back to 1800, when Napoleon Bonaparte was Consul of the First French Republic (before he proclaimed himself Emperor in 1804). Here's a picture!
The style, inspired by the Roman, Greek and Egyptian antiques that were coming to light during this period, became a favorite on both sides of the Atlantic, and has remained so for the last 100+ years. (A "sleigh bed" is usually lower at the footboard, while a lit bateau has head- & footboards the same height).
A sleigh bed makes a perfect French country bed, either in a dark wood finish or in its painted and distressed, shabby-chic incarnation.

c) Iron Beds
Iron beds (and later steel beds) first made their appearance around 1850. White metal beds and black metal beds soon became popular around the Mediterranean, France, and England.
Beautiful antique iron beds have abundant scrollwork and are a perfect fit for a French country bedroom. But even the pared-down, no-frills variety works beautifully in country French bedroom design.

b) Canopy Beds
In French decorating history, canopy beds were pretty much reserved for royalty. No commoner would have dreamt of having a canopy bed in their humble dwelling!
However, in the 21st century, canopy beds are perfectly at home in country French bedroom design. I've included a few in the 'shopping list' above, and there's also a dedicated page about canopy iron bed styles.
A French country bed with a canopy can be dressed up in cool, modern drapes or in the most dreamily romantic floaty chambray, tulle, or lace.
Now, if you're after an antique French country bed, have a look at the current listings on eBay. I'm keeping my fingers crossed that you'll find the perfect bargain!
Yet to find the information you're looking for?
Type a word or phrase into the search box below: