French Provincial Decor:
How To 'Do' French Style Homes
French provincial decor is often freely re-interpreted in other parts of the world. All of us see other cultures through our own lens - that's why country French decorating ideas in the USA, the UK or elsewhere (outside France) won't look exactly like original French country interior decorating.
For information about French/Provençal styles in France, click a pic:
"French provincial decor - what makes it French -
and not Americanized 'French'?
And ... should ceilings be painted a color for this look?"
Catherin
(USA)

French Style Decor #1:
Bedroom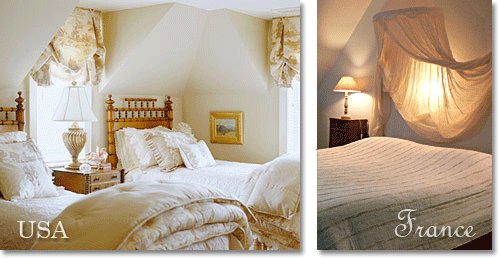 Bedroom in the USA, left (© Sally Lee), and in central France, right (© Toprural)
Both in the USA and the UK, French provincial decor is often interpreted as "romantic", with lace, ruffles, flounces and and bows.  That's not altogether surprising when you consider that the baroque lines of Louis XV furniture are often seen as quintessentially French.
What we tend to overlook, though, is that the elegance and appeal of contemporary French provincial decor comes from its no-frills restraint, its earthiness and nonchalance  in mixing old and new.
In other words: In France/Provence, scalloped edges are just about as frilly as it gets.
Take French country bedrooms, for example: The bedlinen is simple (white and crisp), and the bed is covered with a traditional boutis  quilt or a white matelassé coverlet. Shams and throw pillows are a rarity (except in hotels).
And you may be surprised that, even though there are wonderful vintage, antique and reproduction Louis XV and Louis XVI beds around, many people in France prefer a simple platform bed without so much as a headboard.
Here are some examples from across France:


French provincial decor for bedrooms, from left:  northern, central & southern France
(© left & center, Toprural; © right, dreamhomedecorating.com)
These rooms aren't romantic in a 'sweet' or feminine way. They are almost austere in their simplicity. But they're warm and alive with Old-World tradition. Provençal bedrooms, for example, with their antique linens, waxed terra cotta flooring, fine walnut furniture and whitewashed, light blue or pale ochre walls exude a calm, pure, time-honored beauty.

So let's see how French provincial decor can be translated into an American bedroom.
If you're re-creating French provincial decor in a newbuilt house or apartment, you have to make up for the lack of atmosphere that comes with ancient stone walls and antique floor tiles.
To increase the 'romance' factor, you could use a canopy bed or a black iron bed. Then, add oversized French country curtains that end in a 'puddle' on the floor.
But these are not necessary ingredients! Here are two stateside interpretations of French country bedrooms:
How French?
American "French Provincial" Bedroom Decor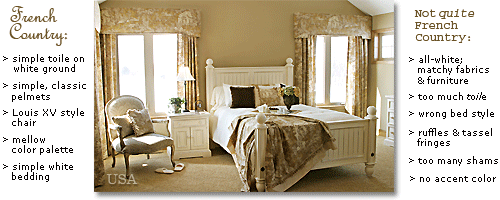 French provincial decor in an American model home (© liliboas)

It's perhaps not entirely fair to critique this room, because it was designed to look recognizably "French country" to a large number of people, and how do you do that? By using loads of toile de Jouy.   But no one actually lives here, so the decor hasn't grown organically into an eclectic mix of old and new like you would find in a real  French provincial house.  Still, just to give you some ideas:
On the plus side, the decor is suitably simple, there's no silk or fancy patterning, and the window treatments have nice clean lines. Very French.
On the not-quite-French  side, the bedstead looks more 'New England' than 'French Country', and the entire color scheme is quite matchy and bland (in France, you'd find a few color accents). And forgive me for nitpicking, but when you look closely at the bed spread (below right), you can see it has a (gasp!) tasseled fringe. Which looks nice, but it's so  not 'French Country'.  Compare:
French provincial decor: Quilts & Coverlets


French provincial bedcovers - both quilts (left) and matelassé coverlets (center) - have straight or scalloped edges. And there's the occasional picot edging, too. But no ruffles or fringes!

Let's look at a second example, one that I think works really well: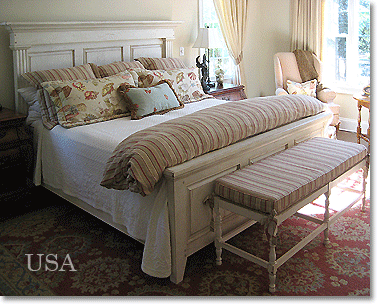 French provincial decor for an American bedroom, (© Posh Living LLC)
The headboard as well as the backless bench have an 18th-century French look about them, the white matelassé coverlet is straight out of authentic French provincial bedrooms, and the ticking, though originally reserved for mattresses, has a lovely, mellow, traditional appearance. So despite the heavy load of shams & accent pillows, this bedroom breathes the restrained stylishness of authentic French country decor.
French Provincial Decor #2:
Dining Room
The following dining room is an intentional syle mix; the owner lovingly called it her "French Country Hobbit Makeover". Even though she wasn't trying for an authentic French look, these pictures are a great example of the simple things you can do to "Frenchify" your home: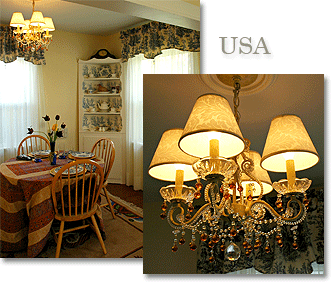 'French country hobbit' dining room (© left & right: Wonderlane)

The chandelier, creatively gussied up at very little expense, would make perfectly fine 'room jewelry' for authentic French provincial decor. The toile valances and wallpaper are unobtrusive and don't overpower the room. But there's one conspicuously non-French  element in this room: Windsor chairs.
You can hide any old table under a large, cream-colored French linen tablecloth, but those stickbacks will always give the game away. In France, country chairs are strictly of the ladderback variety. You could, of course, use any of the French chair styles below to create more cohesive French country interiors (except #5):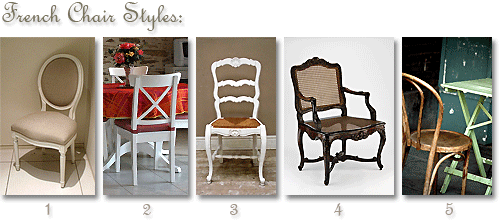 1: Medaillon back chairs became fashionable at the time of Louis XVI;
2: Crossbar backs have been popular since the Restoration (1815-1830), but this is a modern version (© Toprural);
3: Rush-seated Provençal chairs were introduced into fine society by Louis XV's maîtresse, Madame de Pompadour (© Frenchfinds);
4: Louis XV caned armchairs were the 'economy' version of elegant upholstered armchair models (© Victoria & Albert Museum, London);
5: Thonet bentwood chairs were actually invented in Germany and have been continually produced there since 1850. However, they're so widely used in Parisian cafés that they're generally known as "French café chairs". They're also used around some French kitchen tables, but the look is a bit too urban for French provincial decor, and too modern to go with the 18th-century toile print in the room above! (© Thomas Fitzgerald).
French Provincial Decor #3:
What About The Ceiling?


Provençal country house ceilings

So, to the second part of Catherin's question: Country houses in Provence rarely have painted ceilings, but I did find the one above right, by interior designer extraordinaire, Richard Goullet, in the tiny town of Blauzac.
This is of course not strictly traditional French provincial decor, but it's a wonderfully spirited way to fill an ancient Provençal stone house with elegance and attitude. And attitude is definitely an authentic part of French interior decorating, provincial or not :-)
So paint your ceiling any color you like, Catherin! Add a bit of ornament, too, if you feel like it. A bit of gold never goes amiss, least of all in French provincial decor!
Here are a few castle ceilings to take inspiration from: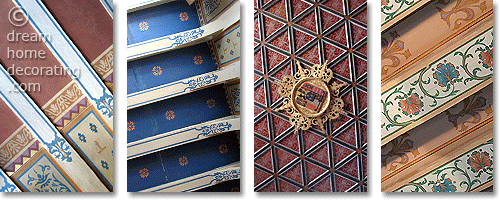 Painted ceilings in the castle of Chenonceau on the river Cher, France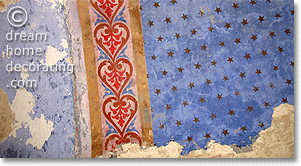 Painted ceiling at the Palais des Papes
(Avignon, France)

Another fabulous ceiling I love is this one, in the Popes' Palace in Avignon (Provence).
Remember this is definitely not French country  decor, but if you like the look of this - honestly, just go for it!!!
French Provincial Decor #4:
French Country Kitchens
I'm currently working on a page about different ways to create a French provincial kitchen, but in the meantime, these pages will help you get started (click a pic):
French Provincial Decor #5:
The DOs and DON'Ts
DO ...
Keep it simple. For example, if you're redecorating a bedroom, use no more than one one  sham per person, but cover that one in a fabulous antique or vintage French country fabric.
Mix old & new, distressed & pristine. Arrange antiques & art with raw finds from nature for a look that evokes centuries and past generations. (Check out some quirky examples of French wall art for inspiration - more ideas here!)
Use simple, quality fabrics. Go easy on the pattern. If you're using toile, mix it with checks, stripes & solids. Use plenty of heavy linen (antique is great but not essential). Embroider a few monograms.
DON'T ...
Overdecorate. I can't emphasize this enough. A few intriguing, genuine  details are much better aligned with a French spirit than, say, Louis XV reproduction furniture and/or toile de Jouy everywhere.
Go matchy-matchy. French provincial decor is eclectic - you'll find an antique chandelier over a simple platform bed, with modern art on the wall. Mismatched bedside tables, or chairs  as bedside 'tables'. That kind of thing.
Fake an antique look, especially for built-in cabinetry. In France, you can use an antique armoire with a modern fitted kitchen. No one bats an eyelid. No one would dream of trying to match the new kitchen cabinets to the antique armoire.
Yet to find the information you're looking for?
Type a word or phrase into the search box below: