Home

›
Tuscan Interiors
› Tuscan Decorating
Tuscan Decorating Style Secrets:
Authentic Tuscany Decorating Tips & Tricks
Tuscan decorating photos & design elements: Get the basics of authentic Tuscan interior decorating!
The good news is,
you don't need  barrelled ceilings, exposed beams, rugged stone walls, or arched doorways to create great Tuscan style homes!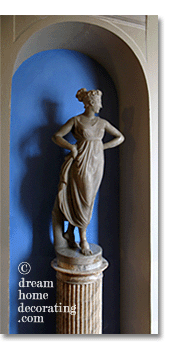 Even if your home has no Tuscan design elements whatsoever, you can still create an authentic Tuscan mood, look & feel for it.
And there's no bad news :-)

Check out the links below, and learn how to create Tuscan interiors that don't  require you to go out, hire an architect and start over on your house.
To skip the list of Tuscan decorating links, click to go straight to the Tuscany Decorating Secrets on this  page.


Overview:  Tuscan Style Homes

1. Tuscan Decorating Ideas For
Walls & Windows

2. Tuscany Decorating For Kitchens

3. Tuscan Home Decor Gifts

4. Tuscan Decorating Style For Bedrooms, Antique & Contemporary
"Secrets" Of Tuscan Decorating?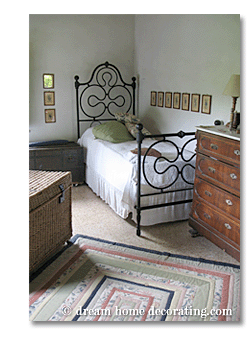 Unless you live in Tuscany, or have friends or family living there, you will rarely get to see authentic Tuscan interiors.
The refurbished, redecorated Tuscan farms and villas that usually make it into interior decorating magazines and coffee table books aren't, for the most part, owned by Tuscans (or even Italians).
Many of these Tuscany homes look gorgeous and inspiring, and they can provide you with great ideas for adding a chic or rustic Mediterranean touch to your own digs ...
... but to someone who's grown up in Tuscany, they might not look much like Tuscan interiors at all.
So if you're after original Tuscan home decorating ideas, check out the pictures in this section, and follow some of the links, too. You'll find authentic Tuscany decorating in farmsteads and town houses, in different parts of Tuscany.
Tuscan Decorating: All Natural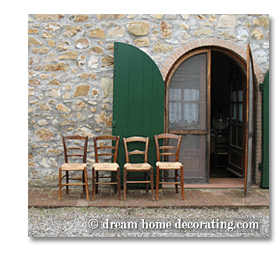 Tuscan Decorating Secret #1:
Keep it simple, natural, and rustic. Like, seriously  rustic.
Much of the Tuscany decor style reflects how poor people in this part of Italy were for the greater part of the last century.
If you had a podere, a small home with a piece of land, you were lucky - it was usually enough to feed your family.
Most building materials would have come from your land as well. Your house was made from the rocks you dug up in the fields.
Furniture was (and is) simple, sturdy and unpainted.
Of course, there are also large country villas and castles in Tuscany, but even though they are more lavishly designed and decorated, they too have a rustic feel - it is as if all of Tuscany was about appreciating what the land provides for you.
Tuscan Decorating Colors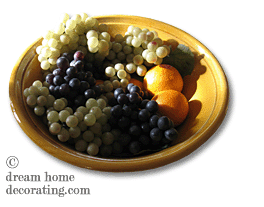 Tuscan Decorating Secret #2:
A lot of Tuscany decorating is done in white and warm neutrals.
But that doesn't mean you shouldn't add a few splashes of gorgeous, intense color to your Tuscan home decor.
Typical Tuscan colors can cover the whole spectrum from pale peachy cream through burnt orange to reddish browns.
Add to that a blue sky, white fluffy clouds, red poppies in ripe cornfields, and a countryside in every imaginable shade of green.
Add, too, the amazing, colorful, hand painted ceramics you can buy all over Tuscany and Umbria.
That is, in a nutshell, your color palette for Tuscan interior decorating: Start from a neutral base, add layers of warm natural colors and a few deep, glowing accents. (For additional inspiration, check out a selection of Tuscan paint color schemes and Tuscan color palettes from real Tuscan homes!)
Tuscany Decorating: With Gusto

Tuscan Decorating Secret #3:
The kitchen really is the heart of a Tuscan home. Take the time to cook - and eat in your kitchen too, if possible.
Tuscan cuisine is usually referred to as cucina povera, 'poor cooking': simple ingredients, prepared in a fuss-free style, with leftovers recycled into new dishes. And boy, does it taste good.
It's sun-ripened, slow food, prepared in low-key, simple Tuscan kitchens, with much love and quite possibly the best olive oil on the planet.
The Tuscan kitchen principles of simplicity and quality apply to all aspects of Tuscany home decor.
Tuscan Decorating Style Recipe

Tuscan Decorating Secret #4:
Mix chunky natural materials with colorful objects, against a mostly white backdrop.

Here are some basics for adapting Tuscany decor to your home:

1. Stick to simple (wooden, unpainted) furniture.
2. Use upholstery in light neutrals or solid colors, and add a few (floral) prints in a Tuscan country color scheme.
3. Paint the odd wall or ceiling (or a cupboard, if you must) in colors that are typical of Tuscan villages.
4. Use natural, even roughly textured materials wherever you can.
5. Add white cotton (with a bit of lace) to windows and beds.
6. Use terracotta and simple porcelain in the kitchen, and maybe add a few decorated plates and bowls.
7. Keep lots of flowers in pots at your doorstep and in window boxes.
For all the richly illustrated detail, and tips on how to create the look (or fake it), please pick from the list  above, or the 'Read More' box  below!
What Is  It About Tuscany?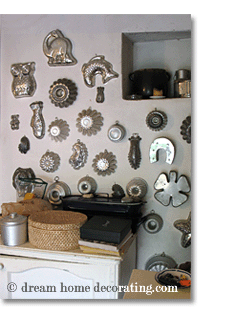 When you get to spend time in Tuscany, it's not easy to pinpoint any single thing that makes you want to phone your boss and say you ain't coming back.
Is it the legendary, warm Italian hospitality?
Could it be the glorious food?
Is it the rolling green-and-brown countryside, or the intoxicating scents wafting in through the windows?
Or the nightingales, singing their hearts out all through the night?

I've just returned from a two-week stint of living and working in Tuscany, and I found even getting soaked on the back of a jeep while driving through a cloudburst to a Tuscan farmhouse was rather fun. (Well, sort of.)  At any rate, when the two weeks were over I couldn't remember a single good reason to go home (except, of course, that's where my darling husband lives :-)
Having been welcomed graciously into many private Tuscan homes, shared delicious home-cooked meals, and snapped countless photos, it's a real pleasure to be sharing all that with you.

I've also put a little 'library' together for you (in partnership with Amazon): Check out these books about Tuscan homes, Tuscan interiors and Tuscan decor; they all come with original pictures.
Yet to find the information you're looking for?
Type a word or phrase into the search box below: