Home

›
Bedroom Colors
› Purple
Purple Bedrooms, From Regal To Rustic
Purple bedrooms in mauve, lavender, heather and plum: On this page you'll find purple bedroom color ideas for (almost) any style.

Cool contemporary yellow/purple bedroom with blue & teal wall accents (Sweden).
Photos © Tia Borgsmidt via Tobias Mikkelsen
Purple has been called the color of kings ...
... but it goes equally well with totally democratic bedroom color schemes, whether contemporary, romantic or 'country'.
The clean, bold Skandinavian bedroom pictured above is composed entirely of cool colors with a retro touch:
♦   bright violet (a.k.a. deep pink lavender);
♦   indigo blue;
♦   cool (slightly greenish) yellow;
♦   and a background of light neutrals.
Check out 8 more interior color combinations with purple here!
If you like the clean look but would prefer warmer colors, combine crisp white bedlinen with walls, bedcovers and throw pillows in dark berry hues that vary from blueberry (for depth)  to deep pomegranate (for warmth).  Matt/velvety wall paint finishes contrast beautifully with lustrous, silky fabrics for select accent pieces.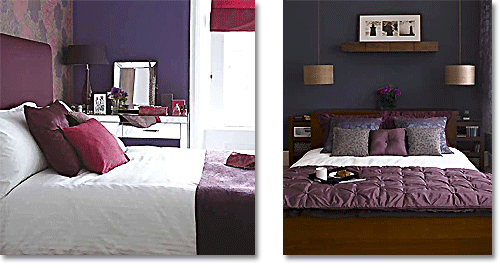 Contemporary white & purple bedrooms with clean lines & luxurious materials.
Photos left & right: © homes & gardens

Dark berry colors are often used as 'soft blacks': they're less stark and more soulful than actual  black but can produce a similarly strong dark/light contrast. For tips on creating successful bedroom color schemes with very dark and light colors, check out the black and white bedroom page!
When you're (re-)decorating, hold off on the bedroom wall colors as long as you can.

There's always a bigger choice of paints than of fabrics, carpets & furniture.

Bedrooms In Purple Tints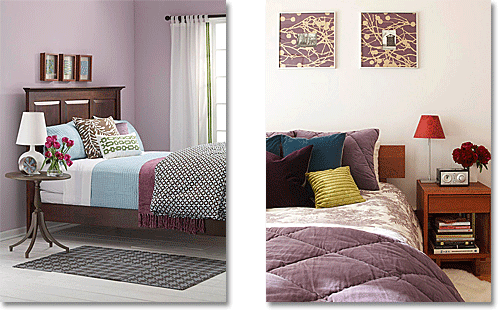 Light mauve bedroom color ideas.  Photos left & right: © BHG
Pale lavender, aqua and chocolate truffle (left) make gorgeous bedroom color schemes when you combine them with a wooden bedstead (or headboard) in a matching 'chocolate' brown.
The bedroom above right is inspired by midcentury colors: grayed mauve, deep 'burnt' vermilion, teal and brass are anchored by a deep blackberry hue and set against a neutral light background. This works beautifully because the unifying color in this palette, mauve, is repeated in bedspread, pillows and picture mats on the wall. (Additional contemporary bedroom color ideas here!)

For some bolder color, check out this unashamedly bright purple and pink bedroom from the south of France:

Idea for purple and pink bedrooms.
Photo © Maison d'Ulysse
Purple is not a typical French country color, but pink certainly is!  This cool bedroom paint color idea would be perfect for a large master bedroom: It's a generously sized, cube shaped walk-in closet whose side wall doubles as a bold pinkish-purple headboard.
"Regal" Purple: Elegant Bedrooms

Deep purple & antique gold for rich, sophisticated purple bedrooms.
Photos © housetohome (left), sköna hem (right)
Rich silk and velvet are perfect fabrics for shimmering, luxurious purple bedrooms.  They work their magic even in smart, pared-down contemporary surroundings!  For added impact, give your walls a subtle metallic sheen. Then, add touches of gold for a an elegant, sumptuous look.

Pale golden accents look very good in high end complementary yellow/purple bedroom color schemes.  Below, a deep purple wall provides a fitting backdrop for the antique corbeille bed and 'shabby' French-style nightstand. (Two color variations underneath!)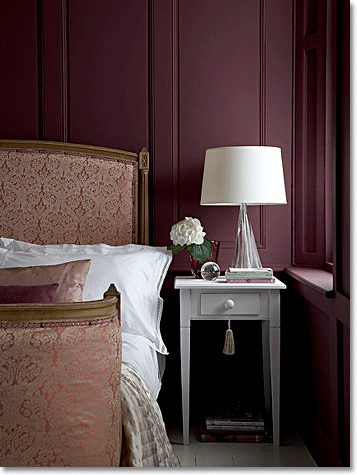 Deep purple bedroom wall color.  Photo © Little Greene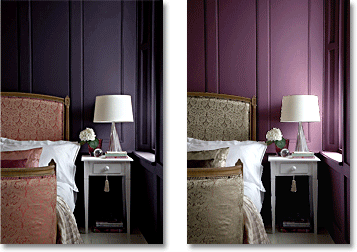 Purple bedroom color variations: blueberry (left) & 'iced' magenta (right).
Note how the a reddish (orangey) gold looks better with deep blue-biased plum (left),
while the brighter damson wall (right) needs a pale golden bed to complement it.
"Rustic" Purple: Country Inspired Purple Bedrooms

'Rustic' purple and sandstone bedroom. © Nicolas Mathéus via côté maison

This subtly colored rustic bedroom plays a mauve bedspread off against soft golden sandstone walls and natural ceiling beams. It's a pale, grayed version of the yellow-purple complementary combination (you'll find a full-on purple-yellow bedroom pic on the yellow bedroom page!)

Stronger, deeper shades of purple are equally well suited to rustic bedrooms. For a convincing country look, consider woollen bedcovers and/or curtains - wool can produce the same color intensity as silk, and it comes with an amazing range of textures, from fluffy and soft to coarse and rugged: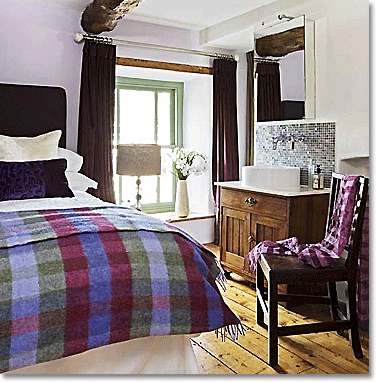 Scottish-inspired country bedroom with purple accents.
Photo © housetohome

This cozy country bedroom evokes the natural colors of Scotland: moss, heather and thistle blossoms under a misty blue sky.
Even though 'purple heather' is not a color that appears in many Scottish fabrics (the Culloden  tartan is a bit of an exception) you could still create a 'Highland look' for your country bedroom by combining typical Scottish tartans with shades of purple color. Check out this gorgeous example!
Purple Bedrooms
From Vivid Rose To Almost-Black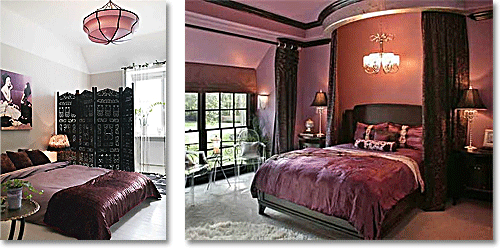 Purple & rose pink bedrooms  © sköna hem (left), champagne chic (right)
Purplish rose is a red-biased purple tint, and in the rooms pictured above it does a lovely job of brightening and intensifying the purple color scheme.

The room below appears in stark contrast to the warm rosy hues; here, the purple color is desaturated to the point of looking almost black. This raises the dark/light contrast levels, and decorating success depends very much on your ability to keep visual clutter to a minimum. (More about this on the black and white bedroom page!)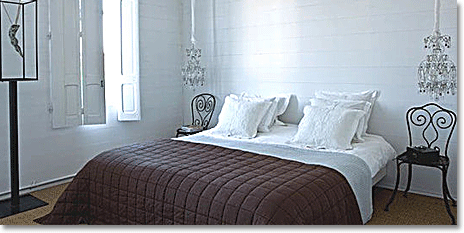 Purple as a 'soft black': austerity chic  for a French purple & white bedroom.
Photo © Gilles Trillard via côté maison

If you would like to take the stark edge off this bedroom color scheme, try substituting the pure white with a soft cream color. It's a happy medium between stark white and in-your-face complementary yellow, and it softens the light/dark contrast without taking away from the overall clean elegance of the look.
Here's an example: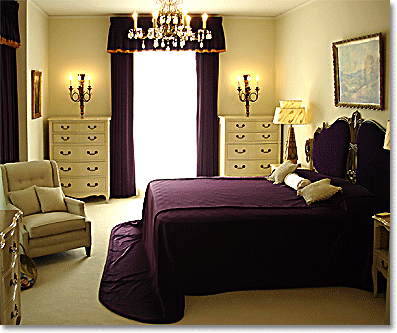 Elegant purple/cream bedroom at Graceland, Memphis, Tenn. (USA)
(This used to be the bedroom where Elvis' parents slept).  Photo © John Kirriemuir
Accent & Combination Colors For Purple Bedrooms

Many people feel tempted to create bedroom color schemes with purple and its complementary, yellow. This can  work, but it's nowhere near as foolproof as, say, green-red or blue-orange bedroom color schemes.
Here are some examples of purple-yellow combinations that work (you'll find several pics on the yellow bedroom page):
Sunny yellow + deep 'blackberry' purple;
Mid-tone lavender (pinkish or bluish purple) + camel/tan;
Deep plum + pale gold;
Pale lime and rich blueberry.
Other colors that combine well with purple:
More Color & Paint Ideas For Purple Bedrooms
(Click A Pic):
Mini Bookshops (In Partnership With Amazon)
a) Bedroom Inspiration:
b) Color In Interior Design:
c) Color Wheel Charts:
Yet to find the information you're looking for?
Type a word or phrase into the search box below: