Home

›
Easter Crafts & Decor
› Easter Dinner Table Idea
Easter Dinner Table
With Hand-Dyed Easter Eggs & Paper Nests
This Easter dinner table comes with a handmade, unorthodox centerpiece and a cool contemporary look.
The Easter eggs on this dinner table are hand dyed duck eggs. They're larger than most chicken eggs. (Dyeing instructions, tips & tricks here!)

If you're dyeing eggs for a color scheme that contains clean white hues (like these plates and vases), it's safest to use white eggs, because the dyes look much fresher and cleaner on them. (I do have a soft spot for dyed brown eggs, though!)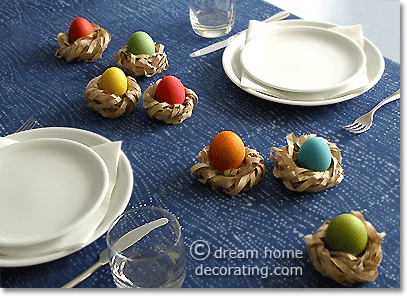 The little kraft paper nests take the sleek edge off this Easter table setting by adding 'natural' color and unruly, accidental shapes. They are extremely easy and quick to create - learn how to make paper Easter nests here!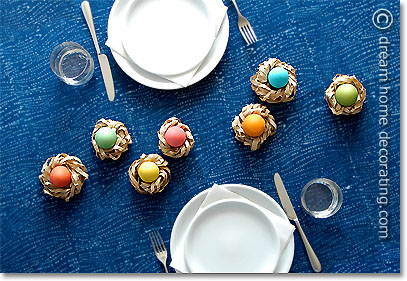 Instead of using small, single-egg nests you could go for larger nests with more eggs in them - or create a combination of smaller and larger ones.
On a plain or color-blocked tablecloth, patterned eggs would look fantastic, too!
Instead of this casually meandering arrangement, you could bunch a few nests together or arrange them in a straight line.
Light neutral brown, deep indigo and white make wonderfully serene color combinations, and colorful Easter eggs will 'pop' beautifully against this background.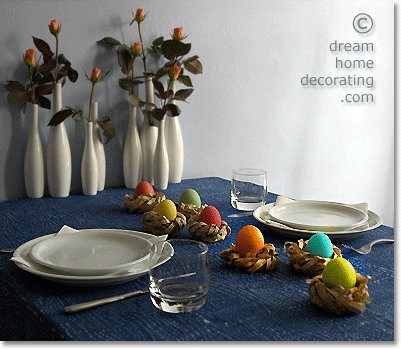 For More Easter Table Decorating Ideas,
Click A Pic:
More Easter Craft Ideas:
Yet to find the information you're looking for?
Type a word or phrase into the search box below: