Home

›
Easter Crafts & Decor
› Easter Nest
Paper Easter Nest:
Create A Quick & Easy Easter Centerpiece!
A paper Easter nest saves you having to find real twigs, hay, or moss for your Easter table decorations. And you'll get a lovely 'contemporary rustic' look!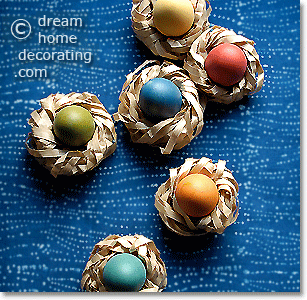 Check out these two Easter centerpiece examples with paper nests:

You will need:
Kraft paper (or similar);
Stapler;
Paper shredder OR
Craft knife, cutting mat & ruler.
How To Make A Paper Easter Nest, Step 1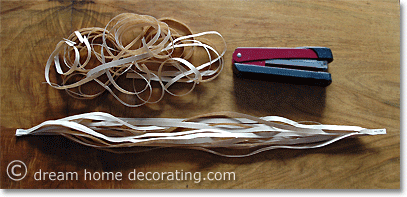 Basic ingredients to make an Easter nest

For a single-egg nest, you will need:
15-20 kraft paper strips (each roughly ¼" wide and 20" long).
Staple the strips together at both ends.
(For larger nests, experiment with length and number of strips to get the exact look you want.)
How To Make A Paper Easter Nest, Step 2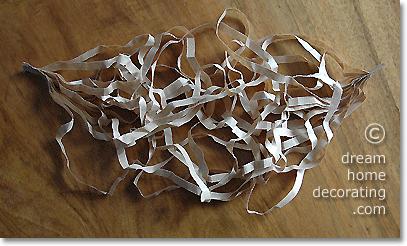 Gently crush the paper strips without ripping them. Scrunching them up like this has three advantages:
1. It increases the bulk of your Easter nest and saves you the trouble of having to cut loads of paper strips.
2. It makes the paper less 'slippery' so the nest holds its shape better.
3. It masks all the paper creases that would be a normal part of the making process.
How To Make A Paper Easter Nest, Step 3

Carefully pull the paper skein back out and twist it loosely. This will help you produce a nice round nest shape.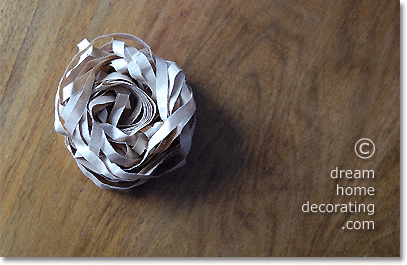 Then, coil the paper into a loose knot and hide the stapled ends inside the coil.
It took me about five attempts before my fingers 'knew' how to create a nest that doesn't come apart. So just use your first skein of paper strips as a tester piece, coil and twist and knot until you get exactly the shape you want.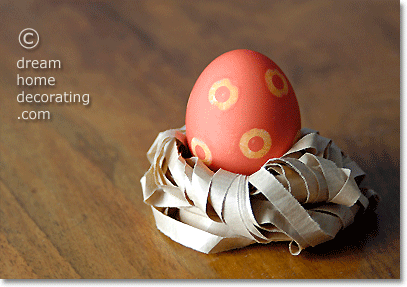 Have fun!
And for more Easter ideas and tutorials, click a pic:
1. Easter Craft Ideas:
2. Easter Table Decorating:
Yet to find the information you're looking for?
Type a word or phrase into the search box below: