Home

›
Easter Crafts & Decor
› Easter Centerpieces
6 Easter Centerpiece Ideas From Europe:
Fast, Fun & Easy To Make!
Easter centerpiece ideas from Europe to decorate your Easter table with an informal, understated touch. (Very inexpensive Easter table centerpiece ideas!)
Easter Centerpiece #1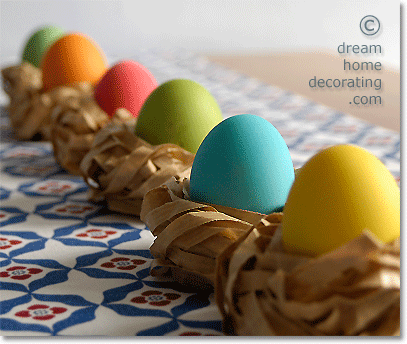 These little paper Easter nests are made from strands of shredded kraft paper, coiled and tied into loose knots. They're incredibly versatile. Their 'craftsy' simplicity goes with many styles, and really with any color under the sun.
(Learn how to make them here!)
Easter Centerpiece #2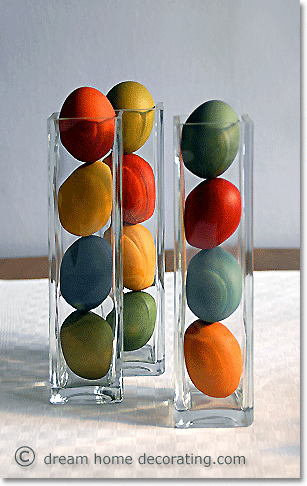 If you have a few tall, narrow glass vases (or tall drinking glasses), you can make this Easter table center piece in no time at all. With plain solid colors it's perfect for a cool, contemporary, minimalist look.  See the entire Easter table here!
Easter Centerpiece #3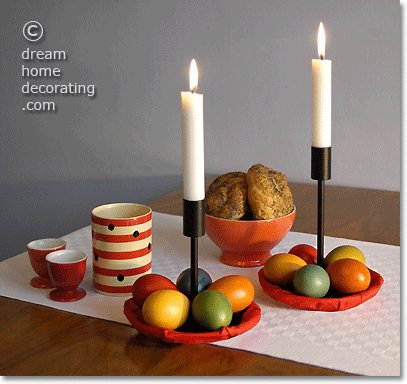 These Easter candlesticks have got to be the most easy-to-make Easter table decorations ever.  Simply place a suitable candlestick on an appropriately-sized plate, and surround it with Easter eggs.
Easter Centerpiece #4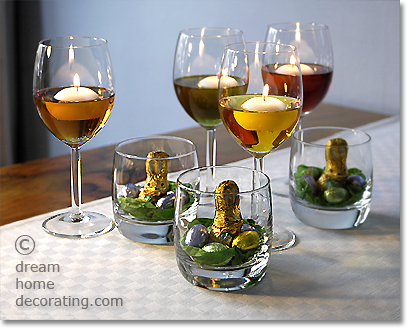 Floating candles in dyed water and tiny Easter nests in glass tumblers - you can put this entire centerpiece together in 30 minutes or less.
Easter Centerpiece #5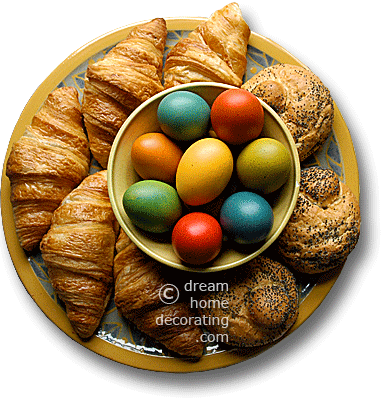 Create a French look with Easter eggs in a bowl, surrounded by croissants and similar French-style breakfast rolls. Makes a lovely Easter table centerpiece to top the lazy Susan at breakfast!
Easter Centerpiece #6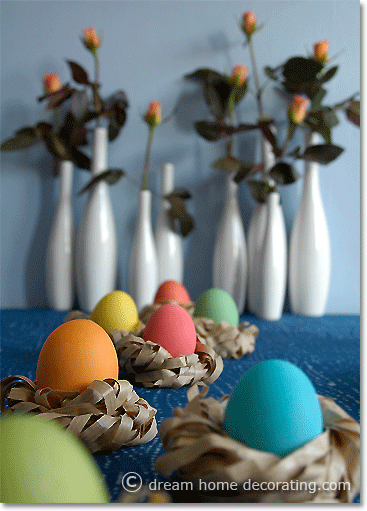 Here are the little paper Easter nests once more, but this time in an Easter dinner table setting.

For more Easter ideas and tutorials, click a pic:
1. Easter Craft Ideas:
2. Or, Choose An Easter Table:
Yet to find the information you're looking for?
Type a word or phrase into the search box below: