Home

›
Easter Crafts & Decor
› Easy Easter Table
Easy Easter Table Decorating
With Dye Lights & Mini Glass Nests
This easy Easter table decorating idea makes a good last-minute Easter centerpiece. I created it with some leftover food dye and two little bags of Easter chocolates.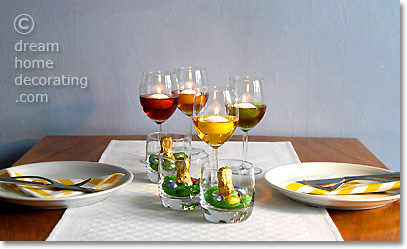 The entire Easter dinner table took just a half hour to put together. And that includes mopping up all the dyed water I managed to spill in the kitchen (I pre-mixed every color in a jug before filling the wine glasses.)
How To Create This Easter Centerpiece
You Will Need:
a selection of glasses
liquid food dyes
floating candles
green tissue paper (or Easter grass)
small Easter eggs & bunnies (or chicks)
1. How To Make The Table Lights
Fill each glass about 1/3 with tap water.
Add liquid food dye until you have achieved the depth of color you want. Alternatively, pre-mix the water & dye in another container and then pour into the wine glasses.
Light each candle outside the glass, then load it on a spoon and very slowly and gingerly set it afloat in the glass. (It's easy to drown floating candles when you're going too fast!)
2. How To Create The Easter Nests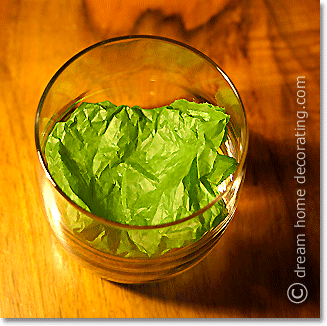 Scrunch up a small amount of green tissue paper and cover the bottom of a glass with it.
Fill Easter eggs into the glass and set an Easter bunny into the center.
Turn the glass around to check that the nest looks good from all sides.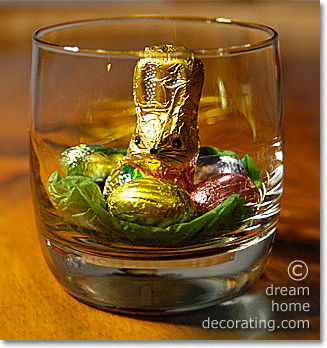 Instead of using tumblers for the Easter nests ...
... try creating an 'Easter bunny nest' in a footed bowl or a 'magnum' red wine glass - and then use the tumblers for the dye lights. Looks great, too!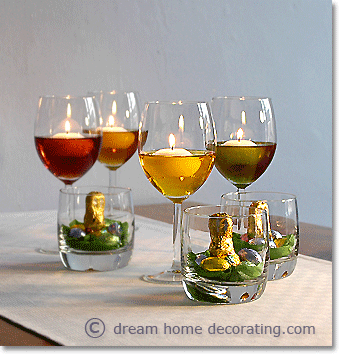 More Easy Easter Table Decorating:
Click A Pic!
Easter Craft Ideas:
Yet to find the information you're looking for?
Type a word or phrase into the search box below: