French Country Home Decor FAQ:
Top 7 Reader Questions
French country home decor is easy to 'do' when you've got this lovely property deep in the French countryside - but how do you replicate the look & feel of French style decor outside  France?
Here are 7 essentials of creating the look of French style homes:
"I'd like to decorate in a French country style,
but where do I even start?"
1. Find the "right" style  of French provincial decor for your purpose.
Most people, when they think of French country home decor, have Provençal interiors in mind. But even in Provence, there are different approaches to decorating, from staunchly traditional to easy & creative style mixes.
To get an idea of what French provincial decor can look like, take a Virtual Tour through French style homes! Sit back, soak up the atmosphere, and watch for the things that speak to your taste or excite/intrigue you. The page also has a list of 30 ideas for easy French country home decor.
For more country French decorating ideas, I suggest you look at the following articles:
♦   Creative French style decor, and
♦   Frugal French country home decor.
Each page details five easy-to-use ideas. For yet more inspiration, check out the French Country Decorating overview!

2. Your budget
French country reproduction furniture is pricey, antiques even more so. On a middling sort of budget, I suggest you focus on color, fabrics and accessories first, and then add a few, choice pieces of furniture (more about this coming soon)!

3. Room by room
Is there a specific room you want to decorate? For a few 'startup' ideas, check out ...
"How can I get the look  of French country home decor,
without doing a complete redesign?"
This can be done in simple steps, from Thrift to Splurge!
Page coming soon: 7 French Country Decorating Ideas that can be used individually or layered into a subtle, gently mellowed "French country" look.
"Is there a difference between 'French provincial'
and 'French provençal'  decorating?"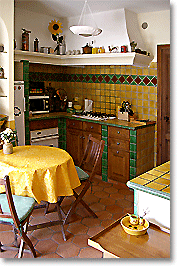 Provence-style kitchen in Grasse
(Provence-Alpes-Côte d'Azur)
Photo © La Entropista
Yes and no.
I suspect that "French provincial" was originally just a misnomer for "French Provençal". I've also come across the spelling "French provencial", which clearly points to Provence rather than the French 'provinces'.
On the other hand, there's no harm in applying the term "French provincial" to all  of France's rural areas.
French country home designs vary greatly between the French Alps, the Atlantic coast, the North Sea and the Mediterranean, so this definition means we end up with loads of different French country home decor styles on our hands!
On this site, most of my photos come from the South of France, anywhere between Perpignan and Nice, including the hinterland. However, occasionally I'll use the term "French provincial" to describe French style homes from other parts of France, too. In those cases, I'll always tell you exactly where exactly they're located :-)
"Is there a difference between 'American French'
and real  French interior design?"

Simple daybed in Indre-et-Loire, Central France (© Toprural)
On the whole, from what I've seen, I think there is  a difference between French and "American French" country interior decorating. There seems to be a tendency stateside to go for a busy, florid version of French country home decor. Which is fine, but it's not  what the French do in their own homes.
With the exception of occasional French rococo elements (now almost 300 years old), French interior decorating is done with restraint and a distinct, no-frills charm.
Read more about French provincial decor abroad (with plenty of photos so you can compare the look).
"How can I get my kitchen to look 'country French'
without replacing the the entire kitchen?"
Number one rule: Don't have any unncessary  objects sitting around, just because they're French (or look as if they could be). Instead, use beautiful, genuine/natural materials that are worth displaying: wood, provençal  ceramics, fresh produce, preserves.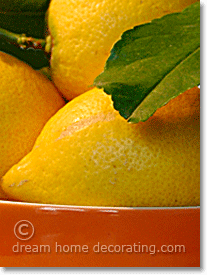 More ideas:
But that's just the start. More about this on the French country kitchens page. Also, for more sweeping and substantial changes (like tiling, flooring etc.), head over to the article about French country kitchen design!
">How can I create a French style home
on the cheap?"
a) Color: Paint the walls in French country colors, using colorwashes or glazes if appropriate.
b) Vintage Finds: Straw bags, wooden crates, ceramic containers, prints - none of this has to be authentically French, and you can find it for pennies at car boot sales and thrift stores. See if you can find books with French illustrations; cut them out and either hang them on the wall as they are, or frame them. Recycle found, inexpensive, quirky objects into new uses. That's the spirit of French provincial decor (see some examples on the French wall art page).
c) Fabrics: Second-hand unbleached linen, ticking, and a few added bursts of full-on color look great. But there's more: try toile de Jouy, or neutral grey and cream spruced up with something striking, like a mix of terra cotta and deep purple. For windows, use simple cheap curtains and just add a foot or so of something a little finer. (Examples here & here)
d) Bed & Headboard: Keep it simple - just paint a headboard on the wall and 'crown' it with something special. Examples here & here.
e) Creative touches: Check out the pages about frugal French country decor and creative country French decorating ideas for a motherlode of things you can do on a shoestring!
"Where can I shop
for French country home decor?"
Well, right here!
On the following pages, you'll find shopping resources from online retailers to eBay (which is not to be scoffed at for the occasional super lucky discovery ;-)

1. French country decorating ACCESSORIES:

2. French country decorating FABRICS, WALLPAPER & CURTAINS:

3. French country decorating FURNITURE:

4. French country interior decorating BOOKS:
Take your pick (in partnership with Amazon):
Not found what you're after? Use this Amazon search feature:
Yet to find the information you're looking for?
Type a word or phrase into the search box below: