Home

›
Bedroom Colors
› Blue & White
Blue And White Bedroom Color Ideas
Blue and white bedroom color schemes are beautifully refreshing and serene. Psychologically, both white and blue are 'happy' colors that clear the mind and calm the nerves.
Blue & white work for absolutely any bedroom style, from raw to romantic, from simple to sophisticated, from cottage to castle.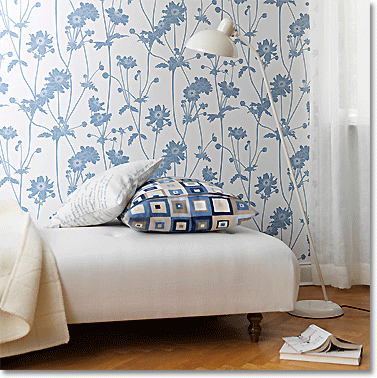 Contemporary bedroom in blue and white
with simple florals and modern graphic prints (© sköna hem)

Sleek, fresh and pared down - but not minimalist - this summery blue and white bedroom is an invitation to relax and dream. Solid white & cream colored fabrics give center stage to the stylized floral wallpaper, with a few cherry-picked graphic prints to complement the floral pattern.
When you're (re-)decorating, hold off on the bedroom wall colors as long as possible.

There's always a bigger choice of paints than of fabrics, carpets & furniture.
Using Pattern  In A Blue And White Bedroom
The darker your blue, the more attention you need to pay to the patterns you use. Deep blues (like royal blue, navy, deep indigo, Prussian blue or midnight blue) can be used as soft blacks because they appear like black against a clean white background. Busy, strong or clashing patterns might result in a messy, cluttered look.
If you're planning to use very dark blues in your bedroom color scheme, do check out my tips for using high-contrast colors on the black and white bedroom page!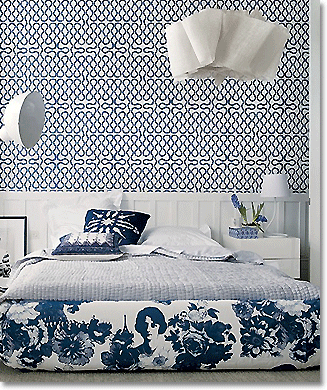 Elegant contemporary pattern combination in deep indigo and white. (© housetohome)

Geometric patterns are a great way to balance florals and 'toile'-style prints, which can easily overpower a room if you're not careful. The contemporary blue and white bedroom above is so busy with pattern that you wouldn't want to introduce any additional color into the mix!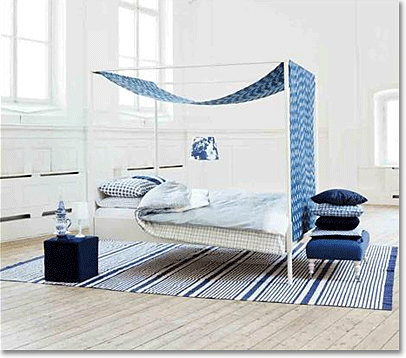 The clean Skandinavian look of this blue and white bedroom combines several blue hues (indigo, royal blue, deep inky blue) and a few pale indigo tints. (© sköna hem)

Swedish interiors are famously light-filled and airy, and this room is a great example of how you can create a stunning bedroom in blue and white just by combining a few interesting textiles.
How to get the look:
Keep the background (walls, flooring) very light.
Blond wood floorboards are perfect for a Skandinavian look. Alternatives: carpets in light sand colors or in white, or limed / white painted floorboards.
Use fabrics in mostly geometric patterns, and mix different hues/tones of blue for variety. But don't be timid: if in doubt, go for bold patterns over delicate ones.  The ikat bed canopy in the photo is not a Skandinavian 'native', but that does't matter for the look as long as it's nice and blue :-)
How To 'Warm' A Blue And White Bedroom


White & royal blue bedroom with pine furniture.  (© Maegan Tintari)

This photo shows how easily you can introduce a natural accent color into a blue and white color scheme.
On the 3-primary color wheel, the complementary of blue is orange. Orange makes a great accent color for blue/white color palettes, and you don't need much of it. (Click for more colors that go with blue!)
In this bedroom, orange was added as a subtle, natural wood hue. There are many 'orangey' wood stains to choose from - check out the list on the orange bedrooms page. And there's a lovely example of a blue bedroom with 'orange' wood in the blue bedrooms section on this site as well.
Bedroom Styles: Blue And White Bedrooms With Personality
1. Italian Elements For A Romantic, Old-World Look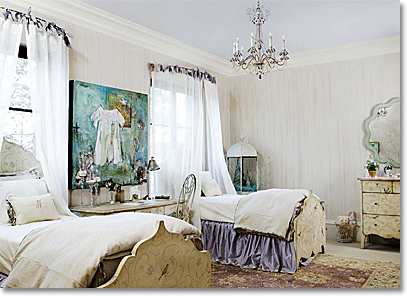 Italian villa style, American-designed:
Bedroom in turquoise, pale mint and purplish blues. (© gatsby)

This romantic blue and white bedroom plays off purplish and greenish blues against a background of white, grey and écru.
The contemporary canvas above the writing desk that separates the two beds contributes several blue-green hues to the color scheme. (It also protects the room from looking kitschy.)
Wall art is a great way of introducing color into a room. Here are a few wall art ideas that would suit a bedroom in blue and white:
a photo canvas of a blue sky dotted with clouds;
a framed or mounted blue fabric (print, weave or embroidery);
a blue and white quilt;
photos in blue frames or blue matting.
For authentic Tuscan pictures of bedrooms in blue and white, check out the pages about Tuscan beds and traditional Tuscan bedrooms.
2. Urban Blue And White Bedroom With Vintage Accessories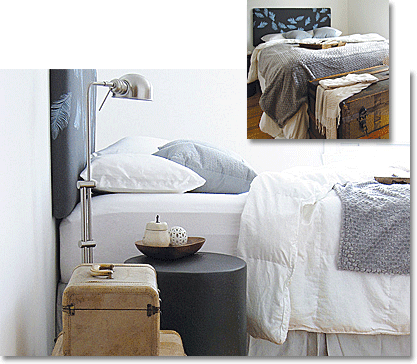 Desaturated blue and white bedroom.  (Photos large/inset © Holley & Gill)

Create a cool urban look with grayish blues and clean, crisp whites.
The star of this subtly colored contemporary bedroom is the poetic headboard (inset), upholstered with screenprinted fabric. (More examples of this on the page about black and white bedroom ideas!)
For a similar look (and as an alternative to upholstery), you could use:
reclaimed wooden planks (with a bit of blue paint on them);
an old scruffy wooden door (you'll find a 'shabby chic' example on the page about blue bedrooms and a green version in the article about bedroom wall colors);
a (blue) blanket, draped over a curtain pole or hung from a batten.
3. Midcentury-Inspired Blue And White Bedroom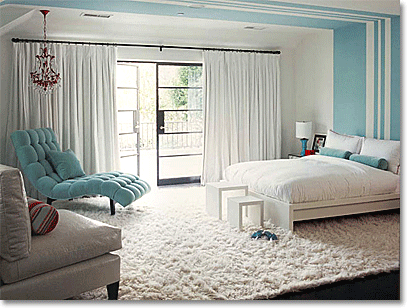 White and turquoise blue for a midcentury-inspired bedroom. (© burnham design)

The most eye-catching feature of this bedroom is the asymmetrical 'headboard' stripe that extends across the entire ceiling. Any additional pattern would distract from the striking bedroom walls, so most textiles are kept in solid colors.
Instead of pattern, the designers used texture to add interest and a tactile element to this bedroom:
tufted upholstery,
a deep pile rug, and
wall-to-wall curtains.
(Textured surfaces are de rigueur, too, if you're decorating a neutral bedroom, especially when you're working with very light neutrals.)
4. Southern Colonial Bedroom In Aqua Blue And White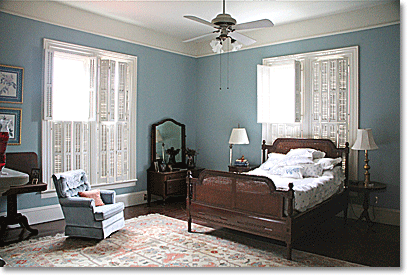 Southern Colonial aqua blue and white bedroom paint colors. (© alyson hurt)

The blue bedroom wall color in this gorgeous South Carolina home is very close to that of the modern bedroom above - and the room layout is quite similar as well - but what a difference in style!
The mid-blue walls and pale salmon pink accents (in cushion and rug) soften the stark value contrast between dark heavy furniture and white louvered shutters.
5. Raw & Rustic Blue And White Bedroom Ideas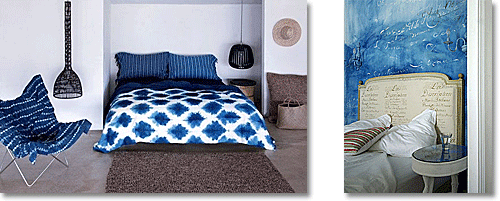 Indigo for bedroom fabrics and walls.
(© left: Mark Eden Schooley; right: Henri Del Olmo, both côté maison)

Plant-based indigo is one of the oldest dyes in the world. It is a great color to complement interior styles that are a bit rough around the edges.
Whether you decide to paint/wash the bedroom walls in different hues and shades of indigo (and then calligraph or pattern over this background), or you opt for hand-dyed indigo fabrics - either way you can't go wrong!
For More Blue And White Bedroom Color Ideas,
Click A Pic:
Mini Bookshops
(In Partnership With Amazon)
a) Bedroom Inspiration:
b) Color In Interior Design:
c) Color Wheel Charts:
Yet to find the information you're looking for?
Type a word or phrase into the search box below: